SITE LINKS


This site designed and maintained by Hadley Systems

Warning to pilots considering purchasing flight suits from Sky Wears
Weather Info For explanations of the tools below and more weather info go here.

Training Week of March 3-9 -- The weather will be OK until Friday late AM. From then on, it looks like a blow out for many days. Late Wednesday and all of Thursday look good for training. Only Thursday will work for our sites that favor a south wind, like Mag Rim or Dry Canyon.


February 26 Wednesday -- Today, the air seemed inviting at the sod farms but, lurking nearby, was virga which may often be accompanied by turbulent downdrafts. On top of that, the NWS told us about a convergence (layman's terms: a battle zone between two air masses) a few miles west of the sod farms. Weather battle zones tend to be hostile to ultralights. As a result of these potential hazards, we stayed on the ground for training today. Accordingly, new pilots Max Bennett and Hunter Davis honed their skills keeping their wings in the air -- sometimes for many minutes. "If you can kite well, you can fly even better."

Hunter (L) and Max (R)

What Mt. Riley looked like some years ago -- when we had rain....

February 22 Saturday -- Trip West -- XC travel is always a joy. Early today was a good time to enjoy our vast deserts and temperate climate. Had Robinson (yours truly) landed "out". No one is ever in these remote places except an occasional cow or two. The mountains in the photo below are (23) miles away. Except for a few miles by the mountains, the entire space is what you see here.

February 21 Friday -- Towing -- This was to be a full day of flying except for a short time midafternoon. Winds aloft were strong and the afternoon was forecast to have a lot of mixing with the higher winds aloft. This not only results in high winds on the surface but turbulence. However, there was an abundance of moisture (clouds) up high and this shut down a lot the mixing -- so we were able to fly basically all day. Student pilots Tom Bird and Max Bennett perfected their skills, especially being able to consistently land in the same spot. With winds being moderate to high, they had a lot of valuable kiting practice, even playing tag. In higher winds, kiting for long periods is more difficult. The beauty of it is that a pilot will get the sense of his brake input range without ever leaving the ground. As training advances, pilots become more consistent in the required tasks. Every launch and landing must be perfect -- every time.

Tom Bird coming in. The high moisture content of the upper atmosphere played interesting tricks with the camera. The halo around the sun and glider is due to refraction of light on ice particles high in the atmosphere.



Pilots (L-R) Max, Tom, and Tom's wife Becky. Max is getting ready to be pulled aloft by our hydraulic winch,



Tom (L) and Max (R) kiting. The best pilots are also the best kiters. We can do nearly everything on the ground that we can do in the air. Not sure who is "it". Instructor Had Robinson (yours truly) is so proud of these guys -- they did a superb job of controlling their gliders on the ground. The deep clouds darkened things a bit.



This photo of Tom and Max kiting was taken from about 40,000' MSL by a military drone. I have a buddy who works for the DoD and occasionally sends me photos of interest. Glad to know somebody is watching things down here....

February 17 Monday - Training at the Sod Farm -- Tom Bird and Max Bennett were available for beginning their P2 training Monday afternoon. After a couple of hours of flight school we headed out. It was unusually smooth air because of the high clouds which prevented thermal formation. Both Max and Tom had to work through difficult maneuvers in the air including spiral dives and partial wing collapses. Both pilots did well and finished the day with a great sense of accomplishment.

Tom coming in for a landing -- nailing the marker in the LZ. It takes a lot of practice to land every time within a 25' radius.



Max on his way up under tow.



The sun broke through the clouds for a brief moment at sunset.



Tom coming in from the last flight of the day. The winds changed from south to north around sunset so the pilots had to launch in a slight downwind condition. This means more running at launch and less gain of altitude during the tow. If we had had more time, we would have relocated which takes about a 1/2 hour. As it was, it is better to fly with some difficulty rather than not fly at all because it would have been dark by the time we moved the equipment. During training it looked like it might rain but it never did.

February 15 -16 Training at the Sod Farm -- Bill Cobb and Jason Tilley came out to train. Jason drove all the way from Copperas Cove, TX to be with us. Tom Bird and Max Bennett also were there to practice their ground handling skills. Skydiver John Shaw also joined us and took some photos Saturday afternoon. It was a great two days of good, solid skill building. Saturday morning was windy so we waited until the late afternoon to train. Sunday morning was good but the afternoon quickly got too windy. The record warm weather (+80 degrees) has made it very pleasant to be in the air.

Jason coming in for a landing - a fun perspective for those of us on the ground. The white puffy stuff in the background are clouds (visible moisture) and something rare for us in these parts.



As is got later on Saturday, it was important to test the air for turbulence. Below I (Had Robinson) went up with a powered paraglider to see how things were. There was plenty of mixing of the winds aloft with winds near the surface which means turbulence. Experienced pilots are not particularly bothered by it but it can frighten newer ones. I was able to snap a few photos of student pilots practicing on the ground.

If you look carefully, I am flying one-handed while using my free hand to take some photos of pilots on the ground. Learning to fly one-handed is important for military operations. The pilot must be able to operate a weapon like a pistol or a recoilless machine-gun (e.g. the H&K 73) while maintaining precise control of his glider. Paragliders have the greatest agility in the air of any aircraft including helicopters. They can also land and disappear in 5 minutes. Photo by John Shaw.



Jason practicing his kiting skills with help from John.

And a few hundred yards away, Bill was working on his kiting skills. He later had the first flight of the day. Learning to control your glider on the ground is the secret to controlling it in the air. Pilots must master this in order to fly safely. The winds were Saturday and it was difficult for beginning pilots to control their gliders. The sod farm presents one of the few places anywhere where this can be done with complete confidence in the pilot's safety.

The air was particularly good Saturday in the late afternoon. Here Jason has flown all the way across the sod farm and is returning to near launch in order to land. When the air is good, it is really good. The Organ Mountains are visible in the background.



John Shaw took this long distance photo of Jason setting up for landing.



We trained until the last moment.... Jason on his last flight for the day. Photo by John Shaw.



There was just enough light left in order to land safely. Nice work Bill & Jason!

February 12 Wednesday Mag Rim Blowout Part II -- We are working to put together a plan to ensure that, if we go to Mag Rim, it is not blown out. Today seemed good per the sounding from the weather balloon. When I (Had Robinson) arrived at launch, it was blown out again at over 22 mph. Just a few hundred feet down at the LZ, winds were light (2 mph). At launch the air was steady, there was no gusting. Is it some sort of wave effect from winds aloft bouncing off the Uvas Mountains? At 12,000' MSL, the air was also this strong. How did it get from there to here? Our expert in meteorology, Tom Bird, is helping us unscramble this puzzle. Mag Rim is such a wonderful site that we must figure it out. It may even require me to fly it with power so that I can explore the air for miles around and see where the blowout is coming from. More later....
February 8 Saturday Mag Rim Blowout -- Pilots Jan Zschenderlein and I (Had Robinson) set out for the Rim in the afternoon arriving at launch around 3:30PM. We were accompanied by Marilyn Robinson and, briefly, Gary Browning. Winds were SW at about 8-10 with an occasional thermal wandering through. Then, at about 4PM, the winds accelerated to a steady 21-24 mph and stayed there until we left at almost dark. While perfect for hang gliding, it was too strong for paragliding. The forecasts up to 6,000' MSL indicated winds 1/2 that value. We are hoping that our meteorologists can help us unscramble the puzzle of Mag Rim. On the happy side, at a little after 6PM, Robin, Nancy, & Keighley Hastings and Prashant Sinha showed up! We had all brought supplies for a cookout but the winds were howling so Robin graciously invited us to his house and we had our picnic there. There wasn't any flying but we had a great time of fellowship.

Ready to launch -- but just too much air! Mag Peak is in the distance.



Had & Jan. We did not need an anemometer.... When your clothing is flapping madly, you know you need to stay on the ground.



Jan, Marilyn, Prashant, and Robin enjoying the evening.

February 2 Sunday -- Mag Rim -- When it's good to fly in our region, it's REALLY good! On Robin Hasting's instigation, he (HG), Bill Cummings (HG), Lee Boone (PG), and I (Had Robinson PG) set out Sunday afternoon for the Rim. Arriving at launch, the winds were coming straight in (240 degrees) at around 7, a bit weak for both PG and HG. However, the forecast was for the winds to pick up to around 12 late in the afternoon. We decided to launch early anyway. It would have been one of the few days we have had which would have been good for tandem flights but there was just not enough notice to get potential passengers out there :(.

First Flights at 3:30PM -- Thankfully, thermals were drifting in from the desert floor which added a lot to the lift at launch. Bill was our driver today and helped the pilots set up. I launched first and got 100' up in a thermal in front of launch. Turning left, I headed down the Rim hoping to find more lift -- but it was not there and the thermals were also weaker. It turned out that if I had stayed right at launch and circled in thermals, I probably could have stayed up for the rest of the day. That's what you get for being the wind dummy.... I was now in the lee part of the cycle and went lower and lower, eventually landing near the south tip of the Rim and about 1,000' from the road. Robin launched next and experienced the same weak lift and eventually joined me at the bottom.

While Robin and I were packing up, Lee Boone arrived so he and I headed back to launch to try things again. As it was late, Robin and Bill headed home rather than have to re-setup Robin's glider at launch for what would be a short flight.

Second flights at 4:30PM -- Back at launch, conditions were getting GOOD -- wind was straight in at 12 - 15 mph. This is high for paragliders and requires extra skill to control the glider at launch. We were both a bit rusty, especially yours truly. Lee launched first. The winds in front of the Rim were smooth as glass and strong. We stayed up until the legal limit (30 minutes after sunset). It is hard to describe the view up above the desert out in the middle of nowhere, especially at dusk when you are in dark sky country with no visible signs of civilization in any direction.

After a great evening flight, Lee and I top landed near the fence (where his truck was parked). Every time I top land, I go further back from the launch face and towards the road and parking area to test the air for turbulence. One of the outstanding features of Mag Rim is that you can safely top land without fear of getting trashed by turbulent air. While pilots don't mind hikes, it is doing them with heavy gear that makes them unappealing. To be able to drive to launch, fly, and then land there is not a common feature of the vast majority of flying sites.

Bill checking wind speed at launch. In the distance, the white radar dome of Magdalena Peak is just visible. View is northwest.



Bill helped Robin set up his hang glider.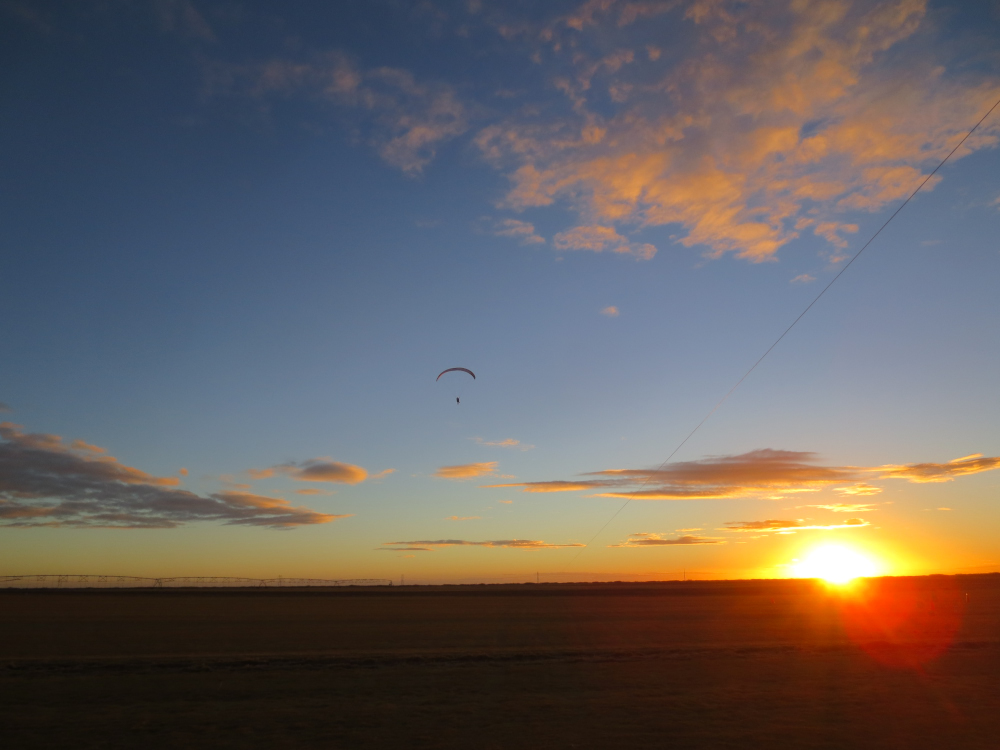 Robin (just landed) and I at the bottom near the south end of the Rim.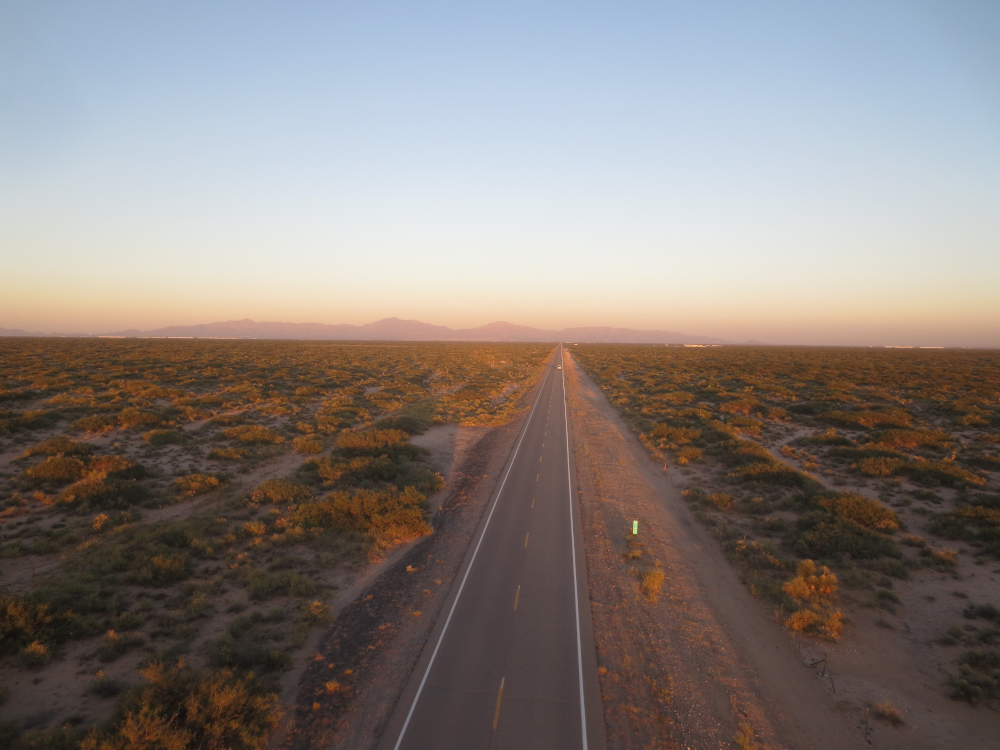 Lee suited up ready to launch for the 2nd set of flights that day.

He is off to the south end of the Rim. When the air is strong (as now), it has the best ridge lift.



Lee and I flying together just after sunset. The little white spot is the new moon. Magdalena Peak is visible to the lower right. View is west.



Free flight is so peaceful that we both were able to chat while in the air. As the air was dead smooth, we could fly without hands. Ridge soaring is a great way for pilots to relax. Is this a view to die for or not?



View is east. It is time to come down. We flew 500 yd. back from edge of the Rim and landed about 175 yd. behind launch. The air was smooth right to the ground and, as always, there is a gradient which means that the speed decreases about 1/2 from 100' above. The mountains in the far distance are the San Andres, about 35 miles away. On just the other side of them are the White Sands. (The white spots in the photo are not UFO's but specks of dust reflecting the camera flash.)



I want you to join us the next time we fly! Contact us to arrange lessons.

January 29 Wednesday -- Dona Ana County Airport -- Local ace pilot, Lee Boone, and I (Had Robinson) met at the airport in the late morning hoping to do some powered delta wing trike and PPG. Lee's trike needed some more modifications for safe flying but I was able to enjoy the calm afternoon before the storm that was forecast the rest of the week.

With PPG, one of the most fun things to do is "cruise missile" -- going along the ground so low that you can kick the tops of cacti with your feet. Instead of bumping along, getting stuck, encountering fence lines and arroyos, you are FREE. No obstacle can spoil your journey and you can change directions and altitude instantly. Want a view of the terrain from 500' -- no problem. No roads or trails? No problem. Want to use mesquite trees as slalom markers? No problem -- and increase your flying skills while you're at it. Below is somewhere west of the Rio Grande.



Dona Ana County Airport -- both Lee and I have hangers here. It is a busy little airport and friendly to all things that fly.

January 25 Saturday -- Sod Farm Training -- Jan Richter, Max Bennett, and Tom Bird had a grand day at the farms. However, things did not start out well when we started late morning. We were at the 1st farm which 10 minutes closer to the highway. Winds were switchy and weak (normal desert air) and the sod farm had not been planted for the spring which meant it was full of weeds (a nuisance to paragliders as they often get caught in the lines). We moved to the 4th farm, our usual place of training. Things were much better. Around 3 PM things firmed up. Winds steadied out at 200 @ 5 and were smooth as glass. Congrats to Jan and Tom who finished their P2 and P1, respectively. Max had completed his P1 just a few days earlier. Because of the steady winds, everyone got higher than usual.

Max getting ready to launch. A fresh P1 graduate, he has already flown more different wings than any other student at Southwest Airports. It was not by design -- it just happened. Wings are as different as any motor vehicle. Some are more like large trucks and others are like sports cars. They each require different inputs by the pilot and respond differently.



Jan coming in for a landing. P2 pilots must be able to consistently land within about 25 feet of a goal. It is an amazing skill that we mono-planar humans can acquire if we work at it. Max is looking on. If a pilot is not flying, he can always help those who are. Teamwork enhances safety. Earlier in the day, Jan launched with an usual tangle of his lines caused by a twig. It was arranged in a manner that when he pulled down on one brake, it would also pull down an A line. He flew with incident but was happy to land and clear it.



Tom is flying a brand-new Karma Sport. The newer gliders have great glide, good lift at launch, and have clean response to input.



Our last to fly for the day, Jan, takes a long glide from a high tow. The farms are free of obstacles, quiet, and away from the valley microclimate and its constantly changing conditions. To the right, the tow line can be seen going to the turn around pulley a 1/4 mile away.

January 24 Friday -- Sod Farm Training and Flying -- With the winds from the north and northeast, there are not too many sites in the area that work. The sod farms work no matter what the wind direction is. So, P2 student Max Bennett and I (Had Robinson) went out to the farms to train and practice. Max worked on ground handling and kiting his Paramania Revo reflex wing and I worked on high speed landings and spiral dives. Here is a 2 minute YouTube video of flying very low and slow over the desert (only a paraglider can do this), doing safe spiral dives (the fastest way to get out of the air), and high speed landings. The best landings are when a pilot comes in full speed, as in the video, and begins the flare AFTER his feet touch the ground. Flaring while in the air invariably means a hard landing.
January 22 Wednesday -- Prefrontal in the Southwest air -- Did anyone read the latest tip from XC Magazine? It doesn't just apply to excelling in aviation but to just about everything in life. "I want to become a jet test pilot." To focus on such a performance goal is not entirely useless but close. The first chore might be "learning how to fly a paraglider or a hang glider with skill." You will never be a jet test pilot if you don't first master the principles of aviation. Accordingly, today was a good day for working on mastering aspects of flying a paraglider. One of those aspects is the spiral dive and landing safely and comfortably.

To enter a spiral dive, the pilot must pull hard on the inside brake -- and hold it. It requires finesse. Pull too hard and the blood in your body will wind up in your boots. Use the outside brake to finesse the dive. Why do spirals? They look cool at air shows (Lee Boone, Glenn Tupper, and I fly in them as a team). They are also a quick, safe, and effective way to get down quickly. A "B" stall drops you about 800'/min. A modest dive as I am doing here has a sink rate over 1,500'/min. The speed at which you can dive is only limited by the condition of your vascular system. Young pilots are tougher and can withstand more G's then old fellas.... All wings have a point when entering deeper into the dive when it becomes easy to maintain the spiral. The wing here is a reflex wing which can dive deeply because of its special shape. To exit the dive gently ease up on the inside brake. A sudden exit from a spiral dive is dangerous because of the energy that must be lost. This maneuver is also fun! At this point in the dive, the spiral is nearly flat (I am looking out at the wing at the same level). Lee Boone and I often fly in air shows and the safe management of our gliders is a high priority. One of the stunts we do is the "Synchro-spiral" dive. Two pilots -- just a dozen yards from each other -- enter a coordinated dive.



After testing my vascular system (!), I headed west along the U.S. Mexican border. The sky looked interesting out near the Portillo mountains. The abundance of clouds means the air is moving up -- it is buoyant. This means that thermalling up to cloud base might be possible. It turned out to be too cloudy. We need lots of sun to create thermals to fly in.



Virga is just visible in the center of the photo. Normally, if a pilot sees virga, he should land immediately. However, at this time of year there is not the quantity of moisture in the cloud that could cause dangerous gusting as it falls and evaporates rapidly cooling the surrounding air. I had planned to go right up to the cloud and, perhaps, fly through the virga. However, the temperature began to drop as I was climbing to altitude and I began to get cold. It was also getting late.



As I looked north on my way back home, I noticed that there was fog/clouds near the ground that blotted out the Las Cruces area. I thought, "This is the cold front that we are expecting!" Discussing this with new pilot (and Senior Meteorologist) Tom Bird later I learned I was incorrect: it was a disturbance in the atmosphere caused by a leg of the Jet Stream west of us. That rascally Jet Stream can cause turbulence and, in fact, I felt the tug of this monster a few times at altitude earlier in the flight.



The photo below looks ordinary -- a view of the sod farm at about eye level. However, I am coming in to land -- and at full speed or about 25 mph airspeed and about 20 mph over the ground. I have been testing how is the best way to land modern gliders. It is frightening at first to come in at trim speed/full speed but the pressure wave in front of the glider slows the descent a bit. Just as my feet touch (skid across) the ground I start to apply brake. Because of the high speed there is an abundance of energy to lift the glider so that the pilot does not fall. I have consistently found that high speed landings, especially with a heavy paramotor on the back, are the most gentle and easy. But this type of landing goes completely against one's natural fears so it takes discipline to do it.



The last message today is this:
I WANT YOU TO TAKE UP PARAGLIDING! It is great physical and mental training and way more fun than a guy is allowed to have.



January 20 Monday -- Training at the Sod Farm -- Bill Cobb, Tom Bird, Max Bennett, and Jan Richter came out again for some more skill development. Compared to the previous days, including January 19 (Sunday), this was the best. Sunday was not so good -- in fact, the air was dead. Pilots learn more in calm air but it's so much more fun when there is a slight breeze coming in. Congrats to Max who finished his P1 Sunday. Tom is nearly done with his P1 and Bill Cobb has just a few more things to do to finish his P2. While both Tom & Max are going to also do PPG it is always best to FIRST learn how to fly without a paramotor, especially if a pilot is going to foot-launch. All pilots today achieved personal records for maximum altitude and time in the air. There were modest thermals in the afternoon which, if the pilots had a little more experience, they could have "hooked" and gone up. Conditions were good for XC.

Bill getting his lines sorted out prior to tow. Pilots MUST be absolutely certain that this be in order. While mistakes here are rarely dangerous by themselves, combined with other errors (cascading events) they can be.



Tom being towed on his way up to about 1,000' AGL. Conditions were stable, the air pleasant, and the view awesome. The white streak to the right is the Dyneema tow line being reeled in by our unique, fully hydraulic, winch. It goes out a 1/4 mile to a turn-around pulley and then up to the pilot. This way, I can see the pilot while he launches.



Max assisting Bill prior to launch. It is always a good idea to have others check your setup. Safety is our first and only priority. It is sport aviation by mono-planar humans who, by nature, do not think and work like birds or fish. This is why thorough and ongoing training is so important. It all so unnatural for us to do this -- but more fun than a guy is allowed to have.



Jan coming in for a landing. Even in the fast reflex glider he is flying, he was able to get high enough on tow to cross the entire sod farm in flight.



Tom on his way back behind launch from a good tow. He was the last to fly today -- it was time to get out of the air as it is getting dark. He just changed over to a more advanced glider that has a much better glide than the basic training gliders. These beginner gliders are very tolerant of incorrect inputs by the pilot. Paragliders are unique among most aircraft in that they "fly themselves". They will go straight and level and land safely (though a bit hard) if the pilot does absolutely nothing. This is also why we train at the sod farm rather than in the mountains. Mistakes are met with thick turf rather than other sorts of solid objects, like rocks. A great day for the student pilots, good work!

January 18 Saturday -- Training at the Sod Farm -- Today was another busy day with visitors and pilots being catapulted into the air. Pilots who came out: Max Bennett, Bill Cobb, Gary Browning, Jan Richter, and Tom Bird. Those who actually were able to fly were Max, Bill, and Jan. Winds were a tiny bit better than yesterday. Thankfully, a few hundred feet above the ground the winds were north at about 6-9 mph. Near the earth, they moved around quite a bit.

What did this mean for getting high so that a pilot could do some maneuvers? IT WAS GREAT! Once a pilot got pulled up through the lower layer of air, he would enter the thin and rowdy boundary layer, and then would shoot up in the fast moving air above that. Max and Bill got the highest they have ever been under tow. They were able to easily cruise back to launch after doing special exercises. Bill even went a hundred yards behind launch and still could return to the sod farm and land 100 yards inside. Jan, at another time, launched in very strong air (12+) and holds the record of over a thousand feet up under tow at the sod farm. Lee Baker is still the only pilot who pinned off after tow and kept on going ... and going ... and going. His instructor (yours truly) coached him into thermal and he went to cloudbase. He was doing so well that we had to have him do maneuvers to get away from cloud suck.

Bill did his first tip collapses (big ears), one-handed flying, flying with the D risers (no brakes), controlling surges, and a spiral dive. Max was flying a race-car reflex wing which required him to run like crazy in the weak winds we had all day at launch. For his last couple of flights, he traded the reflex wing for an ordinary paragliding wing and was able to have longer training flights. If the wind had been coming in strong, his reflex glider would have been the perfect glider -- it likes speed.

Congratulations pilots on a great flying and training day!
January 17 Friday -- Training at the Sod Farm -- Calm winds and glassy smooth air made training easy but much harder in other ways. That is, pilots had to run like crazy to get airborne! When there are even slight breezes it cuts 2-3 mph off the speed necessary to get off the ground when under tow. In addition, we cannot get pilots very high as we are not towing against a breeze. While it is fun to get high at the sod farm, our primary task is to launch and land safely under control. The shorter the flight (like today), the more difficult that is. The advantage is that pilots acquire skills quickly.

Student pilots (L-R): Bill Cobb, Gary Browning, Max Bennett, and Tom Bird. Bill (working on his P2) was the first to fly today. The more experienced pilots are usually the "wind dummies" -- the first to go up. Gary, Max, and Tom are new pilots.



Max (below) is preparing to launch a Paramania reflex glider. These types of gliders are primarily used for paramotoring because they are very fast. Being smaller than a normal free-flight paraglider, they require special inputs when launching. When the wing comes up at launch, it wants to fly much faster than an ordinary paraglider. With calm air today, launching a reflex glider required even more speed so a pilot must run much faster and also carefully apply a little brake as soon as it is overhead so the glider does not overrun the pilot. Max did a great job digging out at launch and learning how to keep the speed under control -- impressive for a first time pilot. He had spent many hours kiting the glider beforehand which was a great help.

Coming in for a landing. Landing a reflex glider also requires special skills, somewhat like landing in a modern parachute. A pilot comes in at full speed, about 25 mph. He must not apply any brake until his feet just touch the ground. Then, he must flare carefully. If he flares too early, he will drop to the ground. If he flares too deeply, the glider will jump back in the air and -- he will drop to the ground. The only way to learn how to do it properly is by experience. This is why we train at the sod farm as deep grass is more forgiving of pilot errors.

A great day of fun and safe flying for everyone. Congratulations!
January 15-16 -- West TX and Southern NM -- It is good to get back to the southwest where a pilot can fly nearly every day of the year! I left the DFW area Tuesday and all its winds, freezing rain, and cold arriving home late that night. On my way I spotted this near Big Spring, TX.



This is not some tire-burning prank by teenage boys. It is a prairie fire. The winds were ENE at around 18 mph and plenty fast to allow it to spread. Just as I pulled over, I could hear fire trucks coming from all directions. Because the Edwards Plateau is inhabited, it is not possible to allow these fires to burn freely. The origin of this one was probably a spark from an oil rig of which there are plenty in the area. Few know that such fires were commonplace until the early 20th century. The entire Edwards Plateau was tall grass with no trees or brush. Such invaders as the Mountain Cedar (the bane of all who suffer from allergies) did not exist. The same was with Live Oak, Mesquite, Creosote bush, Greasewood, and a host of others. Everything, including the grass, would get burned up during a prairie fire. Only the grass would grow back. It was a different landscape 150 years ago....

Below, flying at dusk high over the Rio Grande Valley. Whether it is a hang glider or a paraglider, the wing is always a beautiful site. As I cannot tow myself into the air (!), I have to rely on a paramotor to launch and get up. If there are thermals, ridge lift, or I get very high, I shut it down. My motor, the Miniplane Top 80, weighs just 5-8 kilos more than my free flight gear. While I cannot weight shift anything like when I free fly, it is works passably well. With the winds being so east and north, it has been a tough few years for us as most of our sites face west or south.

It is better to paramotor up rather than not fly at all.

Going along the U.S. border with Mexico.... I am not in a 4 wheel drive truck but doing a "cruise missile" tour near the E. Potrillo Mountains. This is something only a powered paraglider can do safely because it moves so slowly. Mile after mile I went. What is magic is that I can instantly move 100 yards to a side and cruise over roadless areas while touching the tops of the bushes with my feet. Arroyos, fences, or any other obstacle are not a problem. Or, I can give it a little throttle and climb out for a view. Land and take a break? Not a problem, either. The mountains way in the distance are the Franklins. I am still puzzled why the Border Patrol does not use PPG -- it is so much handier and cheaper than bouncing along in some truck. With the stable weather that characterizes our region it makes sense.



3,500' AGL It is time to land. FAA regulations require that ultralights be on the ground no later than 30 minutes after sunset. However, when I fly for the U.S. Army, I am exempt from these rules and come under their regulations. Flying in the dark is an experience but I do it with a transponder so that my location is visible on radar. The highway to the left is Hwy 9, the border highway.

January 11, 2014 - Propwash, TX -- It is the actual name of a private airstrip about (22) nm (nautical miles) northwest of DFW airport. Thanks to the Jet Stream, the weather has been unfriendly in recent weeks -- everywhere. Generally, the Jet means high winds, turbulence, sudden changes, rain, bitter cold, etc. Here in the Ft Worth, TX area we have experienced some extremes. Last week it was 14F with 20 mph winds. Today, although windy, it has been in the 70'sF. Flying has been minimal. Without a paramotor, it would not happen at all. Airspace in this region is as complicated as the weather. There are all sorts of airports close together. If we want to fly ultralights safely -- and legally -- pilots must always check the air charts where they fly. I did this.

Our specific location is in Haltom City (where we are helping some sick family right now). It is located just beneath DFW airspace. Rather than negotiate slivers of airspace legal for ultralights, a young interested neighbor, Travis Hammack, and I went northwest to a vacant field west of the Propwash airport. It was quiet and un-crowded with no trees and mostly dead grass everywhere. It was a great site to fly during a window of relatively calm air in the region.

We waited for the winds to calm down late in the afternoon. I had just launched here, circled around, and am setting up to land. I did this a number of times to demonstrate how a PPG works. View is north. Travis (center of photo) had never seen a paramotor before I came along -- he was fascinated by it. In this part of Texas, gas wells are everywhere, as here.



An oddball private home just east of our launch area. It is a real landmark because of its height.



Up in the air (about 2,500' AGL) at dusk. View is up. The tiny white dot is a ping-pong ball shaped UFO that was following my right wing tip for a while. (It is actually the moon....) As I often do, I will get to altitude and cut the engine and pretend I am free flying. It is so peaceful up there in the heavens. The glider's center is white but the sun's rays at the end of the day give it the golden color. The air aloft was extremely dry and a bit cold (a warmed up Arctic air mass).



The large body of water in the center distance is Grapevine Lake which is just north of DFW airport and about 12 miles away to the southeast. A Class B airport like DFW or LAX has a controlled airspace radius of 30 nm. I am inside that radius but below it. If I were to fly just 2,500' higher, I would be in the DFW controlled airspace. As it is, I am in Class E airspace which, during daylight hours, is lawful for an ultralight. Class E is the next to the last of being the least busy. Class G has the least air traffic and it is what most of the airspace is west of El Paso and Las Cruces. It was entertaining to watch all the big jets come in to a major international airport while I was boating around up there. The view of the world is different....