Emergency engine kill system
by Had Robinson
updated November 12, 2022
Many paramotor engines do not have a choke. The ones that do are easy to stop in case the kill switch circuit is defective. Larger paramotors typically use the Walbro WB carburetor that has no choke. How would you stop it if, let's say, the throttle jams to wide open, even 1/2 open? I hope you would agree that an out-of-control 185cc, 200cc or a 250cc engine would be terrifying and exceedingly dangerous.
Another scenario would be flying in active air or practicing advanced maneuvers, thumb ready on the kill switch, a collapse is experienced, and you cannot shut off the engine in order to keep the lines or a reserve out of the propeller?
With the Top 80, for example, it is not an issue because you simply reach down on the lower right and pull the choke full out. The engines floods (and stops) immediately.
This kill solution is more reliable and bullet-proof than a choke because it immediately disables the ignition system.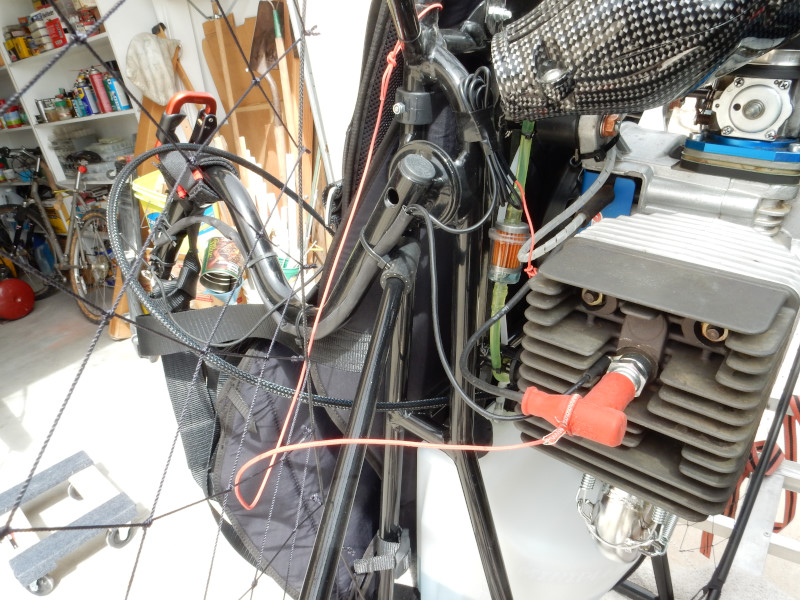 Take a piece of used glider line (it is extremely strong and durable) and loop it around the spark plug boot. Use copies amounts of super-glue to make the loop/knot tight. The glue will also hold it in place.
Run the line through the netting at a point where it pulls the boot as parallel as possible to the spark plug. The boot should easily come off.
Fasten the other end of the line to the engine frame. Make certain the the line is not so loose that it could get in the propeller. If you are not very flexible, you can affix the end of the line to the carabiner strap or some other convenient location. Use a Yosemite bowline to make sure the knot does not loosen. If you affix it with super-glue, note that you will not be able to remove the engine from the frame without cutting the line.
BE CERTAIN TO PUT LOTS OF SPARK PLUG GREASE BOTH INSIDE THE BOOT AND ON THE SURFACE OF THE SPARK PLUG!
In the event of an emergency, the pilot can easily reach the line and pull it, the engine will stop immediately. Practice stopping the engine while it is on your back. MAKE SURE YOU CAN ALWAYS REACH THE LINE!