East Potrillo Mountains – February 15, 2011
Lee Baker and Had Robinson went out to check these mountains for their potential for soaring with air from the west. We started at the south of the range and worked north about a mile. Our first stop was the south launch. (We have renamed it "BC Launch South" in honor of Bill Cummings who is the one that told us about this hitherto unknown launch site.)
Checking out east launches from an inviting area above BC Launch South (where our trucks are parked). The plain east of the mountains is over 200' lower than the plain on the west face which makes all east facing sites better for launching (another 200' of ground clearance). View here is SSE. There was a nice breeze through the area from the west.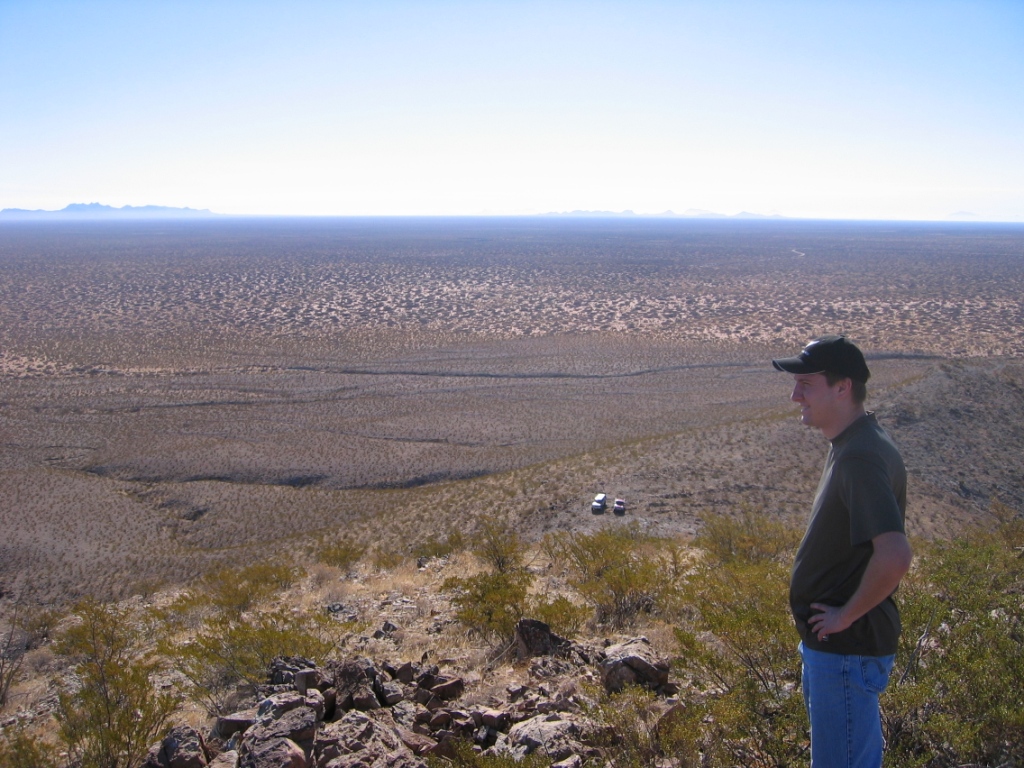 Your tax dollars at work: An abandoned Border Patrol vehicle in the south part of the range. The hood was loose and we know it has not been moved for many months – maybe years.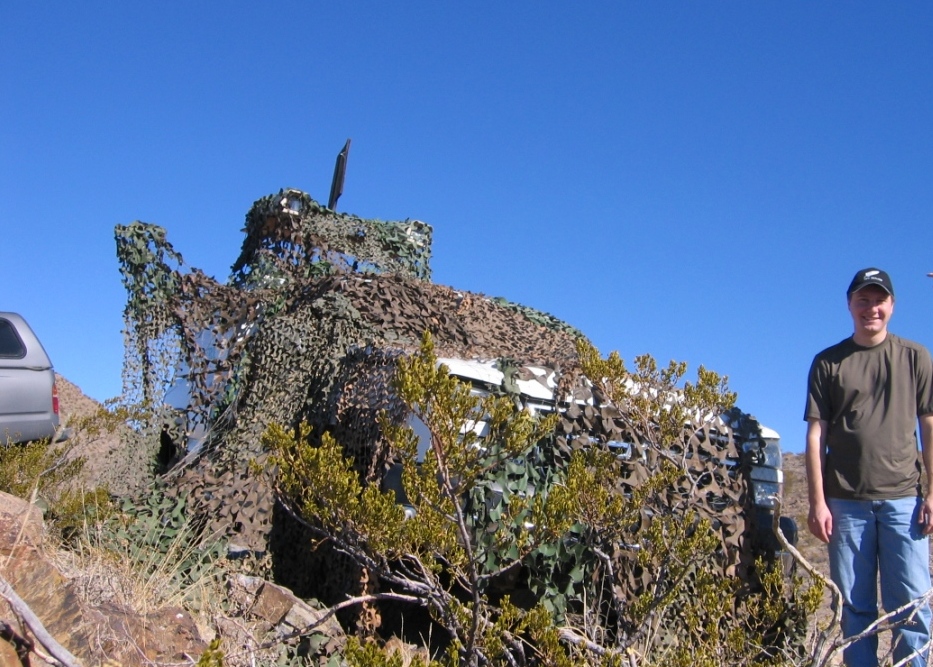 Lee Baker, the engineer, stands near a VHF repeater used by the Border Patrol to aid communications on either side of the E. Potrillo Mountain range. Not many make it into these parts. This gear is located a few hundred yards south of BC South Launch.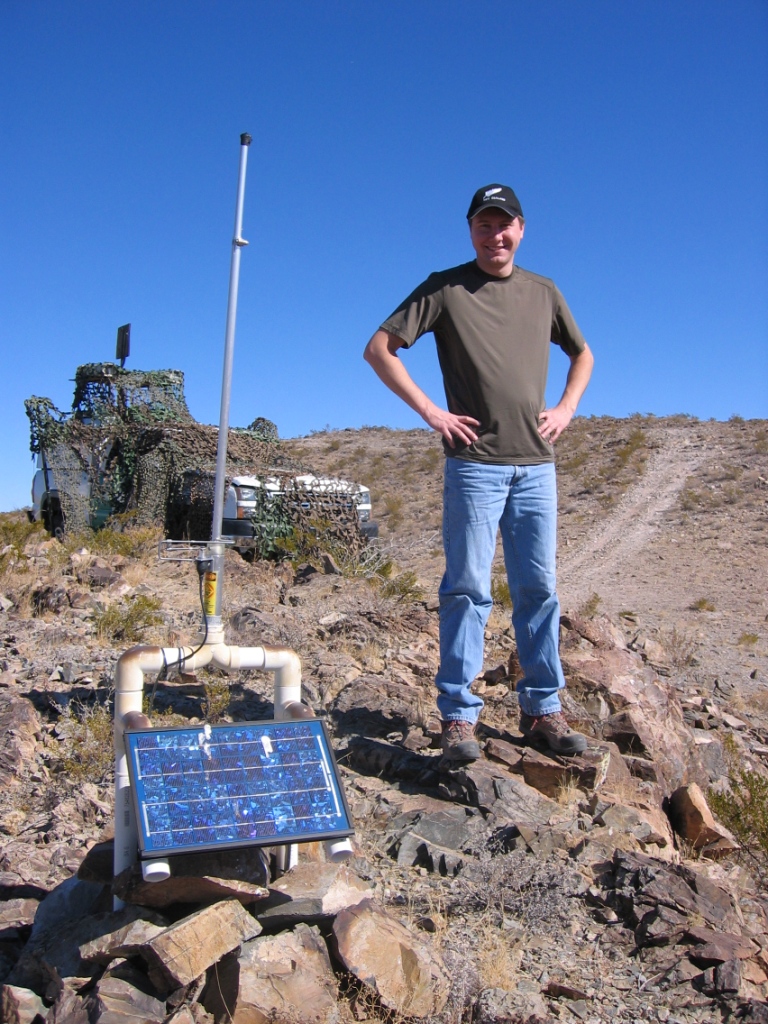 Below is a test mine we found up in the mountains from 50-75 years ago. The black arrows point to a vein of milky white quartz that ran from the surface down into the earth. This was apparently what prompted a miner to return with equipment to follow the vein – which can contain gold. Here are some comments on this: "Milky quartz is occasionally associated with gold in hydrothermal veins. Prospectors searching for gold laden ore look for outcrops of milky white quartz veins. Many of the most beautiful gold specimens are the ones that have the lacy gold extruding from the pure white milky quartz."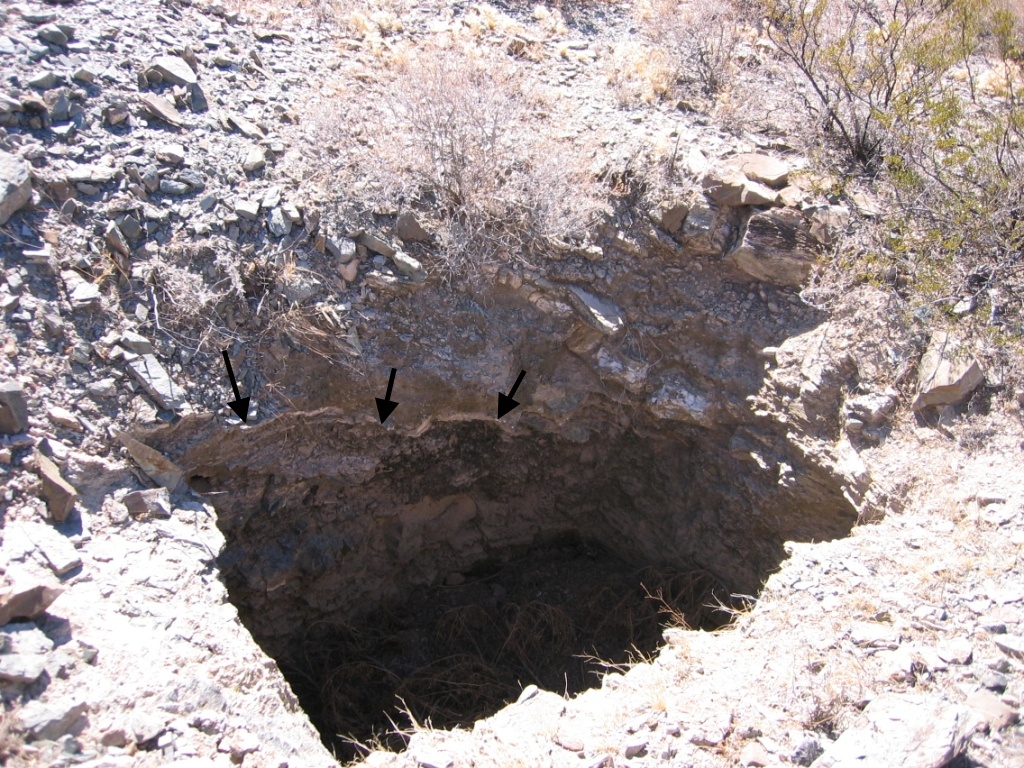 Here is a close up photo of some of the tailings which contain milky white quartz. Maybe you can find some gold out in the East Potrillo Mountains? Let us know and we will show you where this test mine is....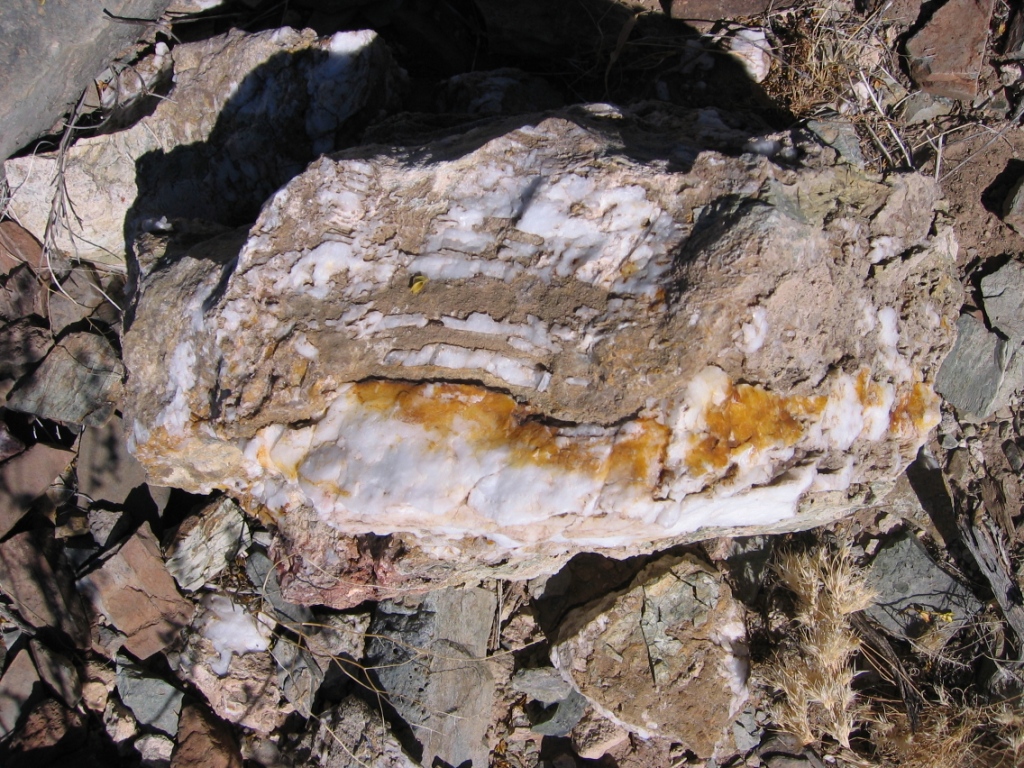 Off-the-grid-country near an alternate launch site for hang gliders and paragliders north of BC South Launch. Why do we go out here? Dark sky, no city sprawl, quiet as anything and beautiful views. This a view looking east with the Organ Mountains over 44 miles in the distance.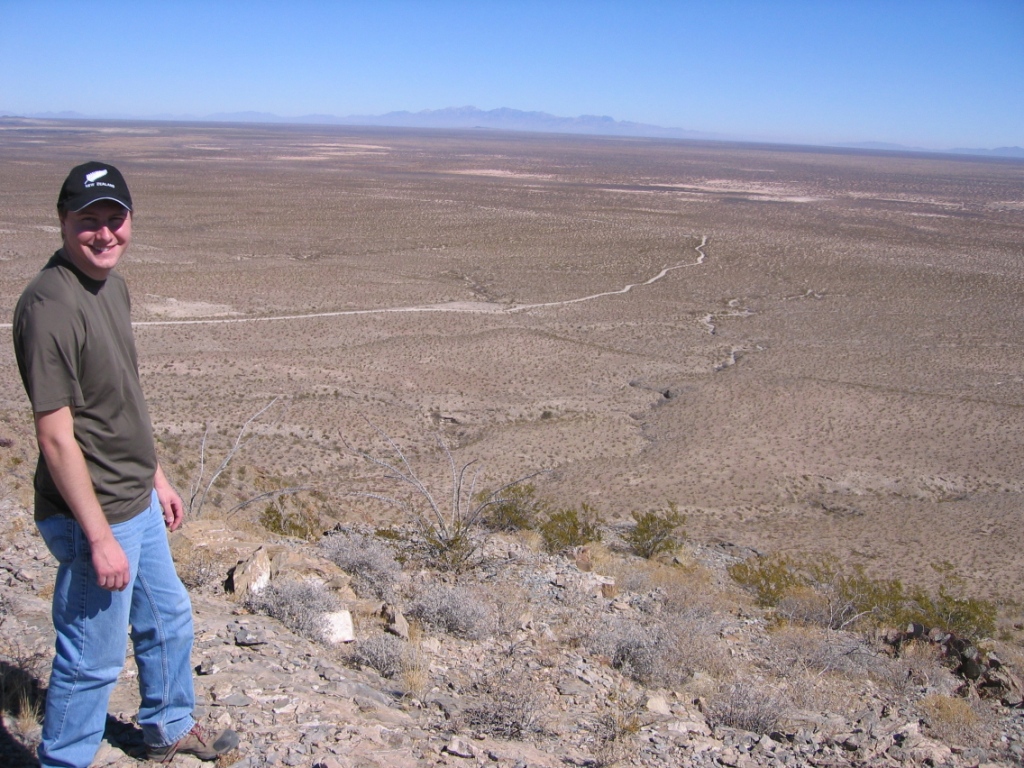 You never know what you may find out in the middle of nowhere. Below are two folks, Art and Sue, with their pack animals traveling the lonely road from Deming, New Mexico to El Paso, Texas. They are about 7 miles northwest of Santa Teresa, New Mexico on County Rd A17. I drove by them on the way back from Kilbourne Hole. I went about 100 yards and then stopped, "What were two riders and two pack horses doing out here?" They were not ranchers as ranchers never ride a horse in these parts as the distances are too great and dry for working horses. The more I thought about it, the more I realized I needed to check with them (and get this photo).
Art and Sue are traveling across the United States by horseback and have gone almost 2,000 miles in the last 3 years. They started in Broken Bow, Nebraska. Everything they own in the world is what you see here. They support themselves by finding odd jobs here and there as they travel. Art packs a full size Ruger .45 revolver and a shotgun with 3" magnum deer slugs – which means he is pretty much ready for anything, especially hungry bears or mountain lions. Thanks to less than intelligent legislatures, lions are hunted less which makes them more aggressive and less afraid of humans – not so good if you find yourself alone in the boondocks.
To make a long story short, my neighbor (and experienced horsewoman), Dawn Oakley, and I took these folks in for a couple of days. Dawn boarded the horses and Marilyn and I boarded the humans. They had not slept in a bed for over a month and needed time to wash, clean, repair, and re-provision for their journey east – to Dallas. They will take State Highway 180 which is a paved road but even more remote than the dirt road from the Deming to El Paso. It is about 95 miles from El Paso to Guadalupe Mountains National Park and the highest peak in Texas – over 8,500'. I admire how tough, honest, and transparent these folks are – a breath of fresh air in the world we live in. Why did we take them in? If you have ever traveled for days or weeks in foreign territory in tough circumstances, you would understand – especially if someone showed you some grace.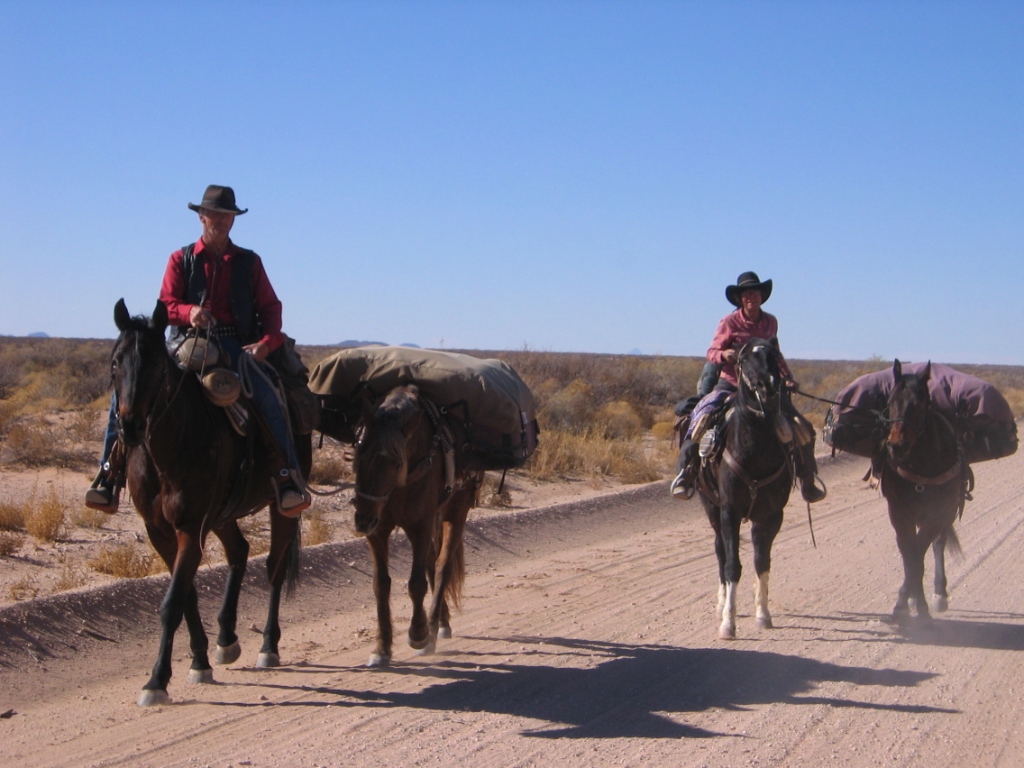 Dawn Oakley watering the thirsty horses.