Lee's Lookout – Franklin Mountains State Park
March 3, 2010 (formerly "Deadman's")
Lee Boone (first time) & Had Robinson (second time) successfully launched from the new Franklin Mountains State Park Deadman's launch site. There is no question this can become the launch of choice in the Franklin Mountains (subject to Park approval) as it is safer because of its altitude and much greater slope. It is an easy 12 minute hike from the Transmountain Pass highway. Both PG and HG can bail easily, if necessary, to long stretches of cleared dirt road that is well within an easy glide. There are plenty of thermal triggers and sources out in front – much more than Agave Hill. As the site is in winds aloft, launching and getting up when conditions are weak is possible as demonstrated this day.
Lee Boone was the incentive behind us looking for new and better launches in the Franklins and, thanks to him, we decided to try this new site. THANK YOU, LEE FOR HELPING US DEVELOP NEW SITES IN THE REGION. Our advice: Always turn south (left) or go straight out from launch.
Lee Boone surveying the view from Lee's Lookout. Note the steep slope which will allow easy launch for both HG and PG. View here is to the northwest.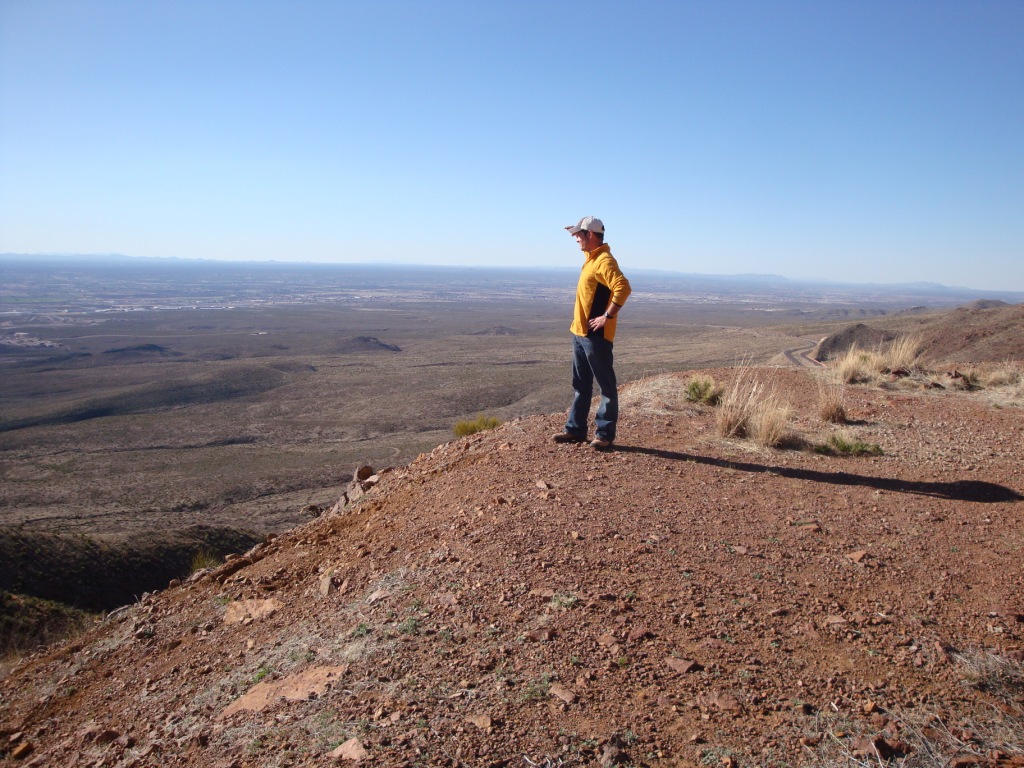 The image below is of Had Robinson's flight path.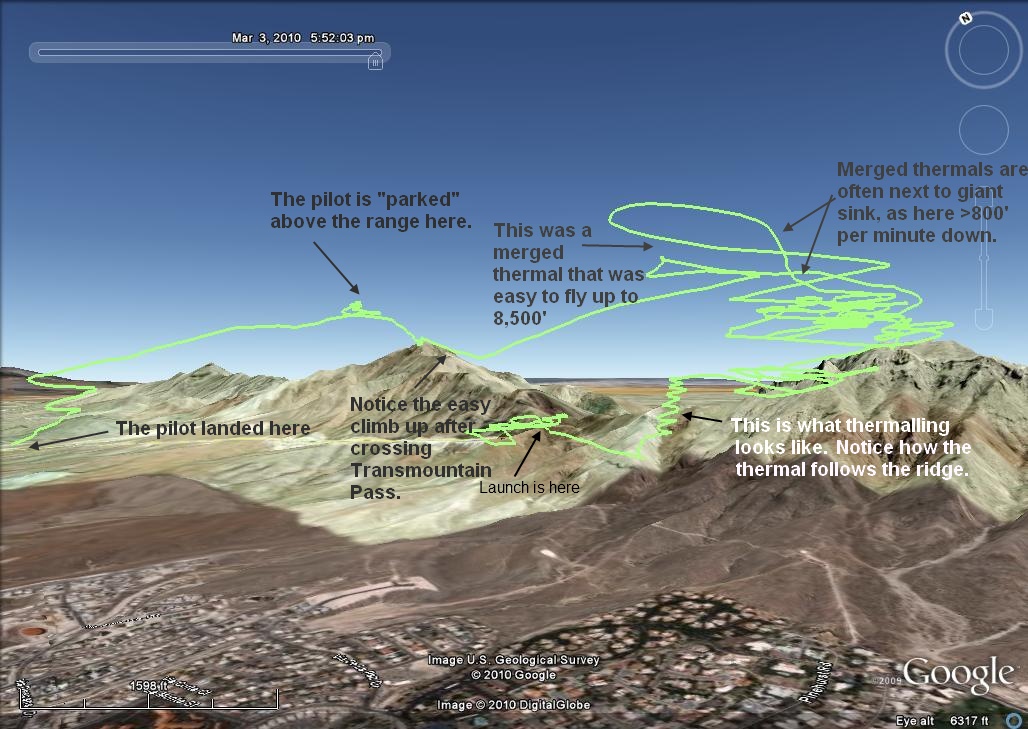 "View through the risers" – Having thermalled up from Lee's Lookout, Had took this photo facing south. McKelligon Canyon is easily visible in the center of the photo.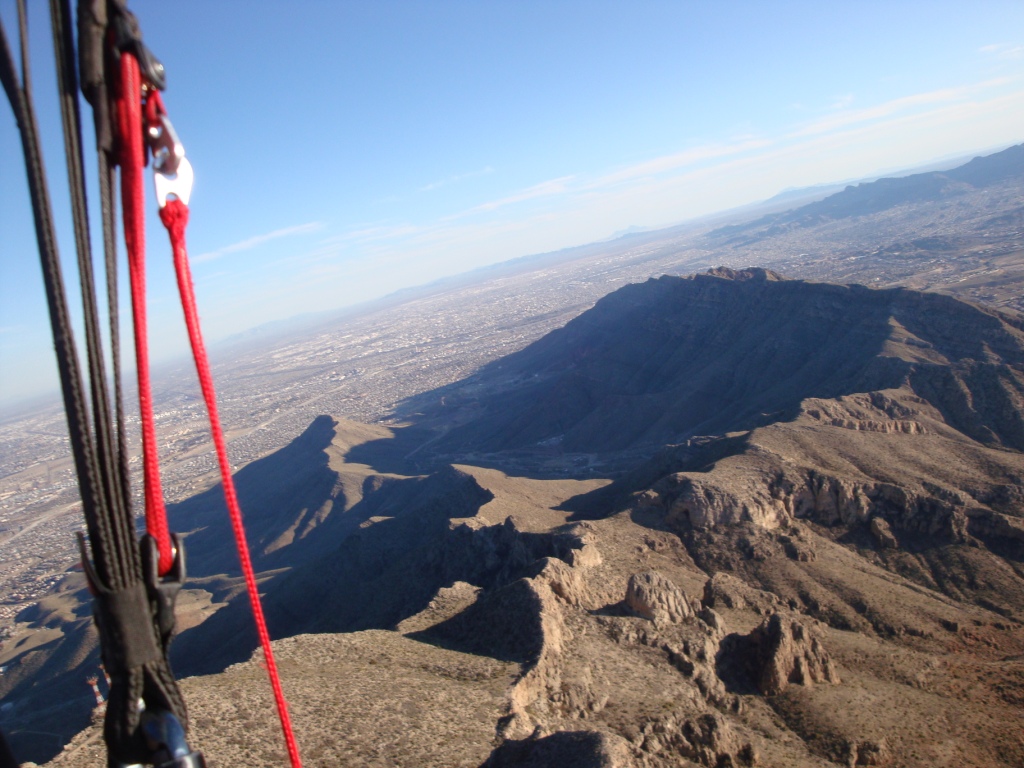 A rare shot looking down on South Mt Franklin (Radio Peak) with east El Paso and El Paso International Airport in the background. How can pilots not keep smiling in such a place as this – challenge, ridge lift, abundant thermals, friendly authorities, and a public that loves all kinds of adventure?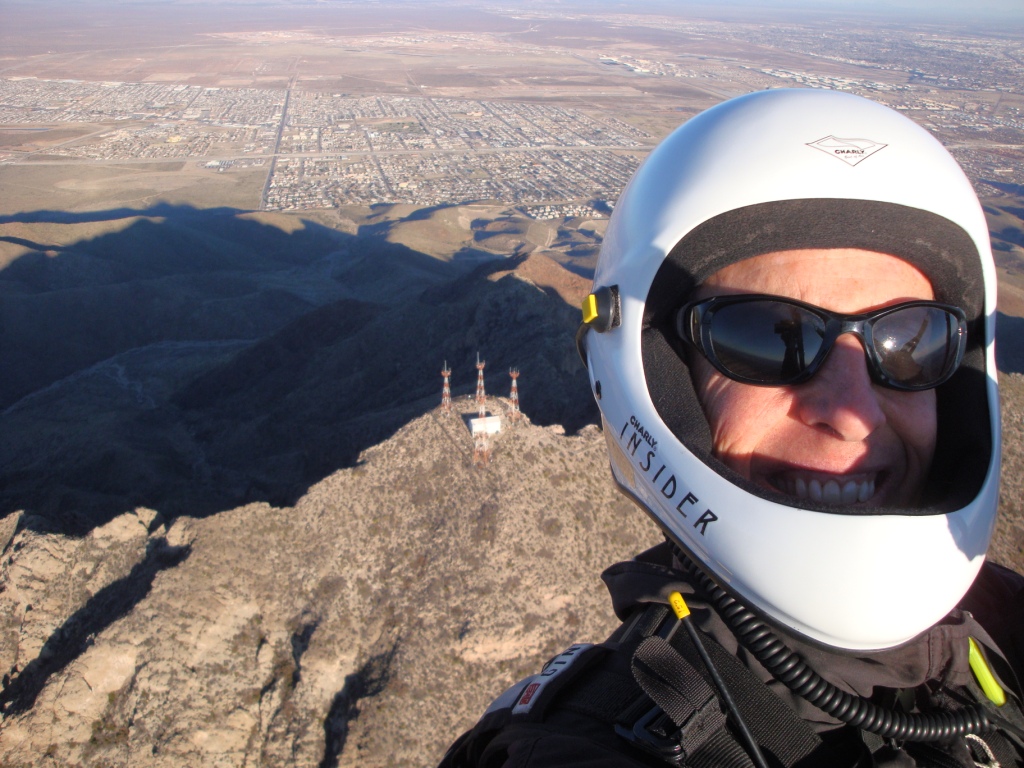 Flight path from Lee Boone's GPS. He flew extremely well for being new to the sport (< 1 year). Lee had the longest distance between launch and landing in the Franklins to date.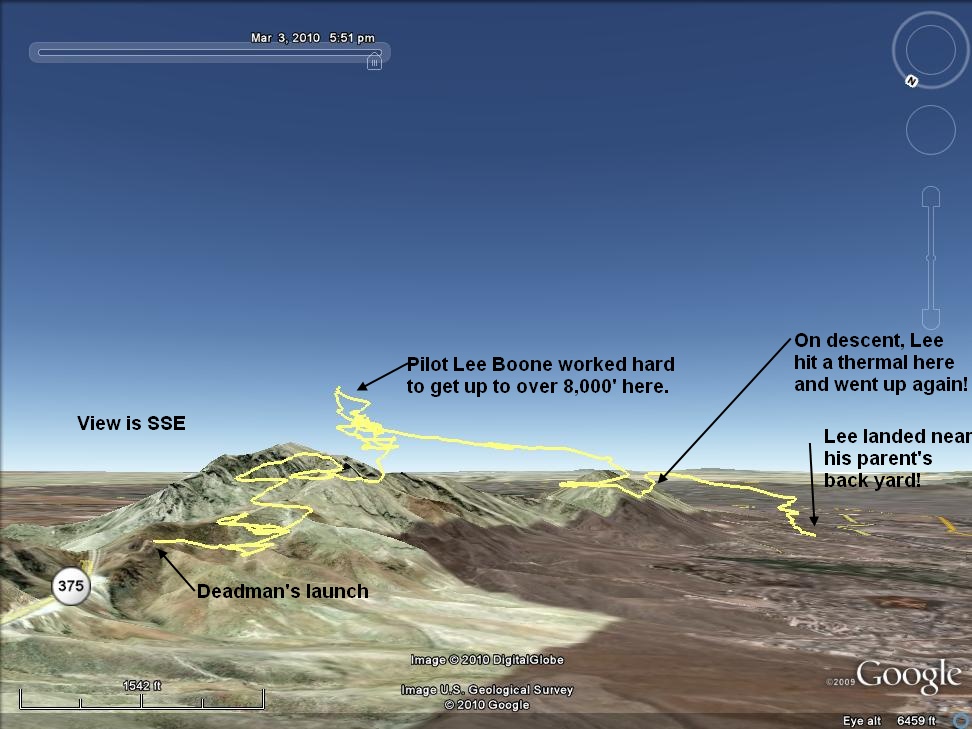 Lee Boone in his Niviuk Koyot flying at over 7,500'. View is looking south. Cristo Rey is just visible at 7:30 from the pilot. Lee is gaining the skills in this incomparable region so he can fly anywhere in the world. The Franklins act as "thermal mergers" in this particular part of the range. Smaller thermals are set loose at lower altitudes and then, because of the unique canyons and ridges of the Franklins, they can merge, becoming giants that are wider and less turbulent. This is no more evident than the southwest corner of North Mt. Franklin where the lift is huge and never ending. We have not topped out the lift there. Can someone help us?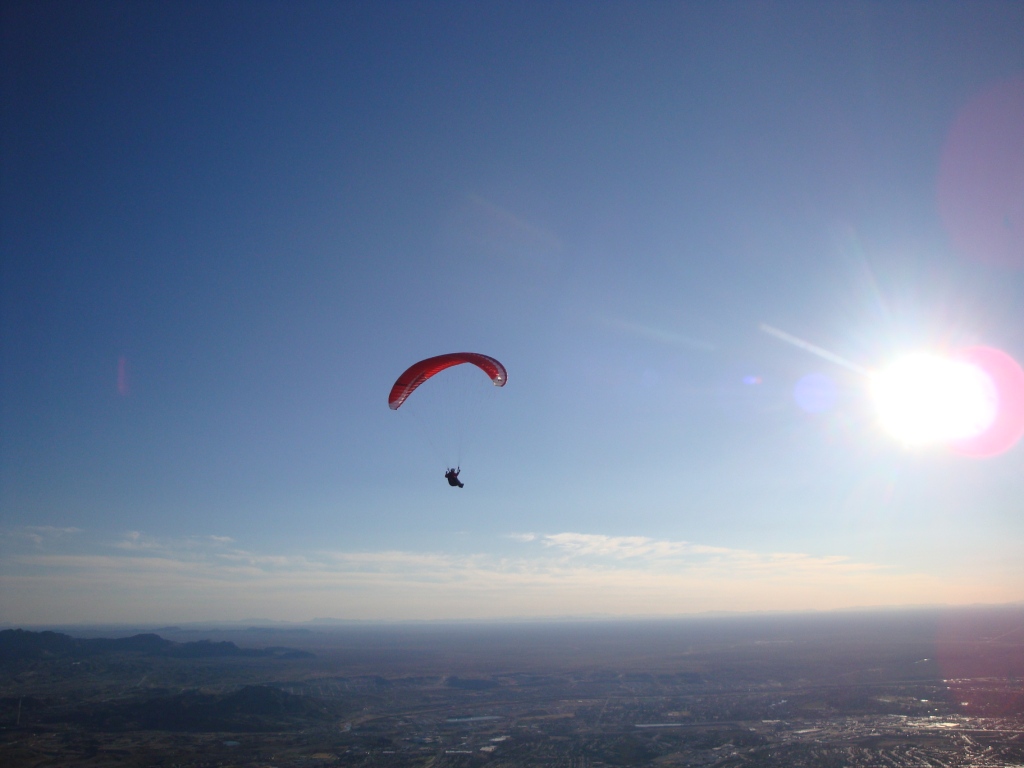 Lee cruising at 7,000' near launch. It took him a half hour to work the lift and thermals to get up so high. We are both floating on top of the world! Late in the day, conditions are mellow and the less experienced are not going to get tossed around.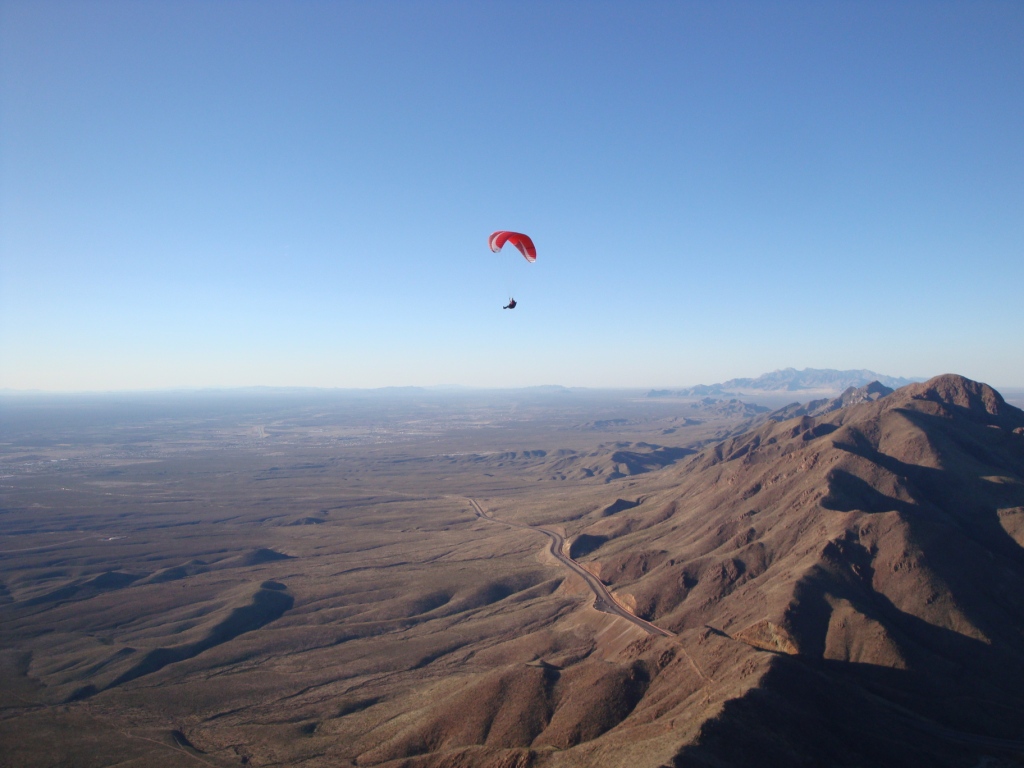 Had took this photo of N. Mount Franklin while cruising back and fourth west of the peak where "the lift never ends". He was going to top land but the lift was too strong to safely approach the peak. Today, we had an inversion at 9,000' and got with 500' of it. While all other types of non-soaring aircraft don't know or care about inversions (where the air gets warmer rather than cooler as you go up), it is important to us as thermals and ridge lift END at inversions. At this point, they gets very turbulent. Imagine squirting a water hose at a brick wall – everything goes well until the water hits the brick and then it goes everywhere. It's exactly the same when moving air hits an inversion layer.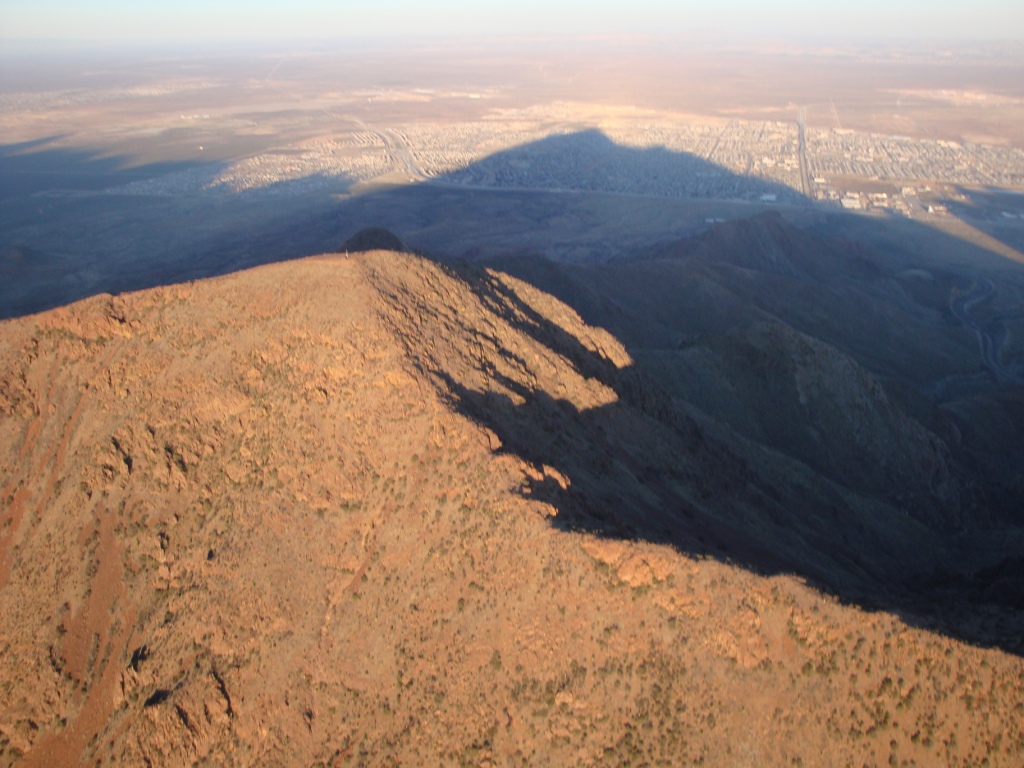 Had is way above the Franklin Range (over 8,000') when he took this photo from out in front of the SW corner of N. Mt. Franklin. As mentioned earlier, right here is the central focus of thermal convergence which gives broad and smooth lift up to the limits of the air (where the next inversion is located). As we check the balloon soundings nearly every day, we will pick a day with no inversion and see how high we can get. Stay tuned!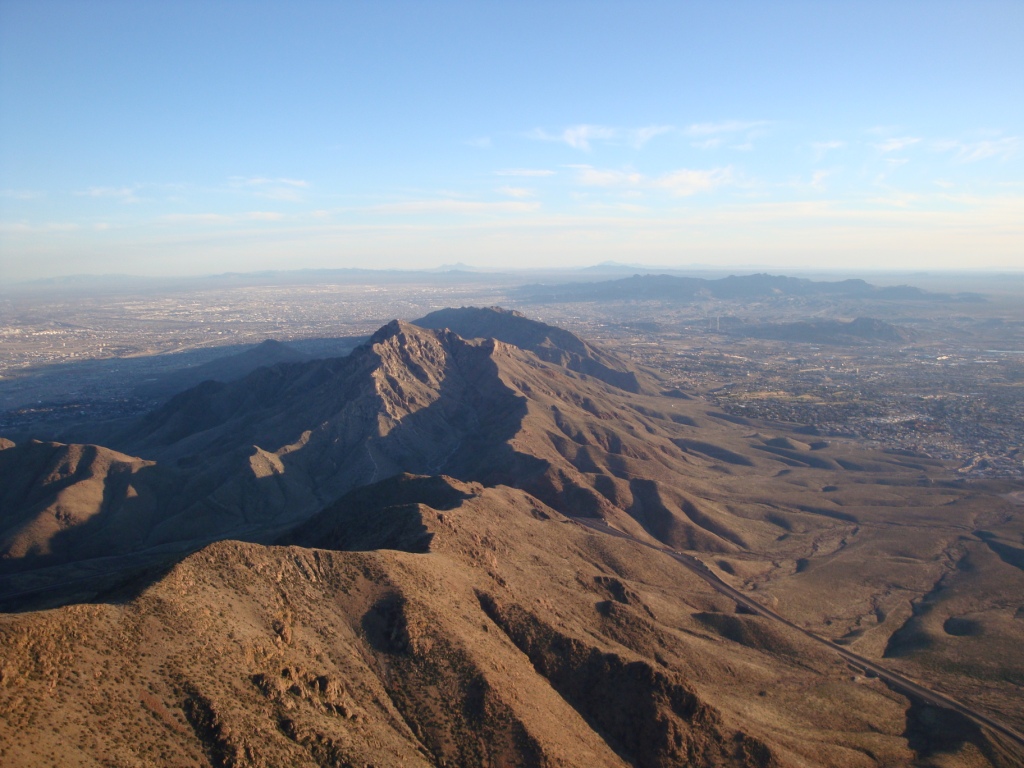 Had took this photo just after he landed on the Tom Mays Park main road. The white car is the Sheriff's who patiently waited while Had got his gear out of the way. It took a half hour to come down from over 8,000'.