Valle de Bravo Flying Adventure
Below is typical trip to Valle de Bravo hosted by Fly Mexico. Please contact them to book. $150/person deposit required, balance due upon arrival. Note: Southwest Airsports does not host trips to Valle or provide instruction there.
Dates
November - March (best times). If you like more relaxed air, fly as early in the season as possible.
Cost
Pilots: $1,200 (as of 2012) includes:
Guide services by Fly Mexico
Accommodations
Ground transportation to/from Valle de Bravo and Mexico City.
Daily transportation to/from launch and the LZ
Non-flying guests: please contact Fly Mexico for prices. There is plenty for them to do in the region!
You are responsible for the following:
Round-trip airfare to Mexico City
Meals and refreshments (about $21/person/day)
Tips for our porter and driver ($7-$15/day)
Purchases of gifts and whatnot.

Figure about $40/day in total c

ash needs.
Before you send your deposit ($150/person) to reserve a place, contact Fly Mexico for information on accommodations. Most pilots and guests stay in a comfortable pension near the center of town.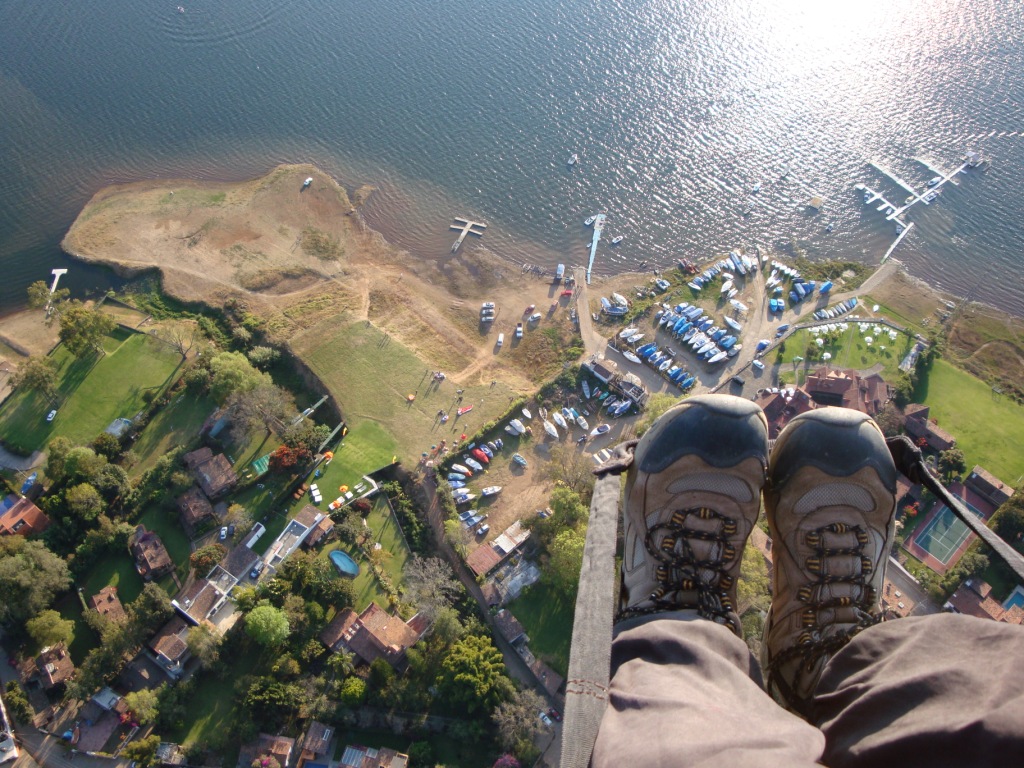 Valle de Bravo (VB), Mexico has some of the finest flying in the world for paragliders and hang gliders. (Go here for a map of VB.) While this site can be challenging to expert pilots, the conditions in early December are mild which are ideal for recreational pilots. It is also relatively un-crowded at this time of the year. VB is a town of about 20,000 nestled deep in the mountains of central Mexico on the eastern shore of a beautiful lake. The west side of the town meets the side of a mountain which is used for afternoon ridge soaring by pilots.
Both pilots and guests are welcome! Don't speak Spanish? Not traveled in Mexico before? No problem. Fly Mexico has experienced guides who are there to help. The people of VB are friendly and helpful.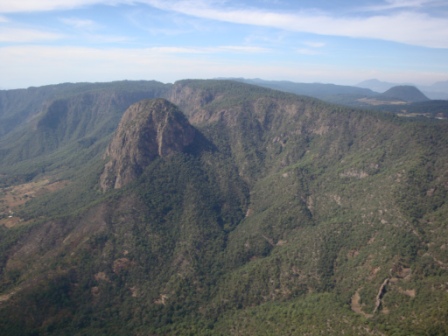 If you arrive in Mexico City any day other than Sunday, you will have to pay for your own transportation to VB. If you are uncomfortable traveling in Mexico, Fly Mexico can provide private transportation to/from the airport and your accommodations in VB but it is expensive (about $70 one way). The most economical way to get to VB is via bus but you will have to have some ability to read and speak Spanish.
In Mexico City take a taxi from the airport to the Ponientes bus station (175 pesos) which takes about 1 hr. At the bus station take a Zina bus to VB (193 pesos) which takes about 2 hrs.) When returning from VB to Mexico City and arriving at Ponientes, near the building exit is the taxi window. Buy a ticket to the Aeropuerto and go to the taxi stand outside. It is an easy trip to your airline terminal from VB and costs very little.
Mexican buses are more like airplanes in the U.S. – there often is a hostess, refreshments, movies, and comfortable seats.
Bunkhouses are also available for about $20/night.
A typical day begins with a lazy breakfast at one of the many restaurants in this ancient town. At around 10 AM, we take a van to the main launch site south of town (about 15 miles) called El Peñon (the pointed rock peak in the photo lower right). From here, pilots can choose to enjoy the view, help other pilots, take a sled ride to the huge LZ to the west, or try their skills at working the large and gentle thermals that are abundant in the area. The air is predictable at this time of year.
We often fly as a group but it is not necessary. Pilots can choose to fly to "The Wall" via El Peñon and, if they like, setup for a XC trip back to VB. Another favorite route is to go east and follow the valley behind launch to our favorite luncheon hang-out where pilots enjoy simple but first class Mexican fare that is prepared on the spot. (Generally, the food in central Mexico is much like border food but not as spicy.) These are some of the routes pilots can try.
If you don't make a destination, we will see to it that you are picked up wherever it might be. After an easy lunch, we pile in the van again and head back to VB for an afternoon of whatever you want: Exploring VB, shopping, resting, or taking the van to the soaring ridge behind VB for more flying (see photo just below). Often, pilots can have a relaxed afternoon soaring back and forth directly overhead the town (be sure not to fall asleep!) The lake flow usually continues late into the afternoon. As it dies down, pilots all head to the LZ which is right on the VB lakefront and can take advantage of the bars and restaurants which surround the LZ.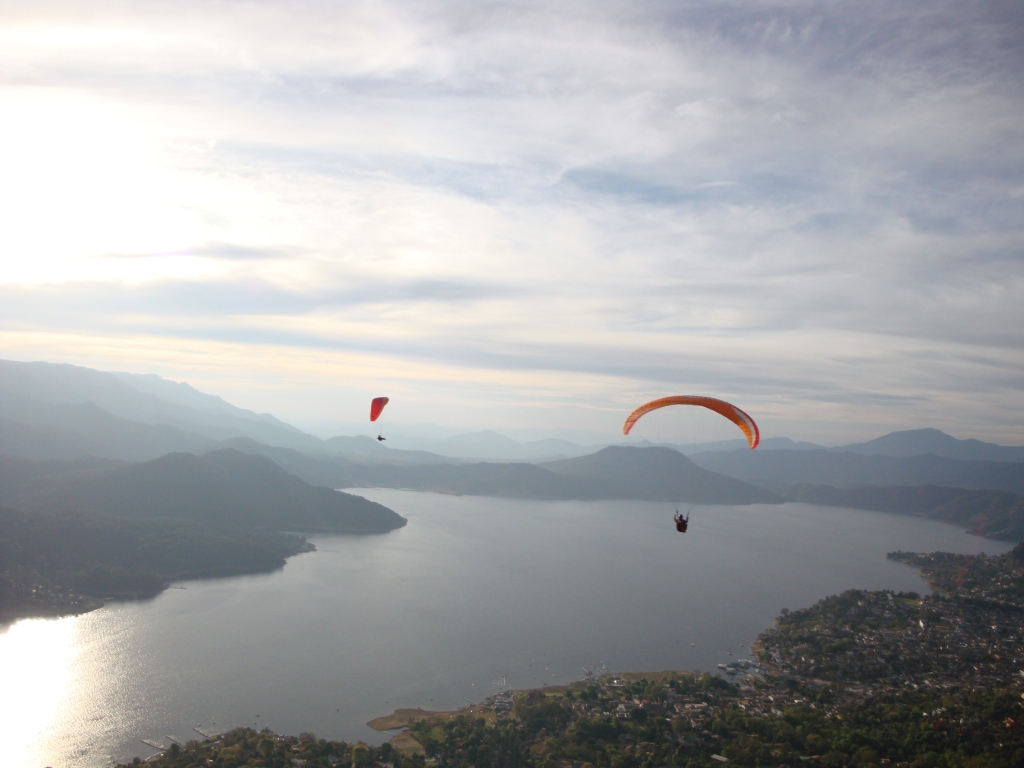 From then on, the evening is yours – from having a relaxed dinner at one of the restaurants in VB to strolling the streets and waterfront. VB is a family oriented town so all of it is safe to stroll at any time of day or night. The town square is busy until late in the evening as the town people enjoy music, food, and the dozens of vendors who set up shop for the occasion. Our accommodations are close to it all so we can walk everywhere.
Our schedule is not a busy one – relaxation and safe flying are our goals.
Below is a view east from "The Wall" looking right at El Peñon with the huge extinct volcano Nevado de Toluca looming in the background. It is so high that the daily adiabatic flow towards it affects VB and causes the pleasant ridge soaring conditions there. Launch is the little white patch on the ridge behind and just to the right of El Peñon.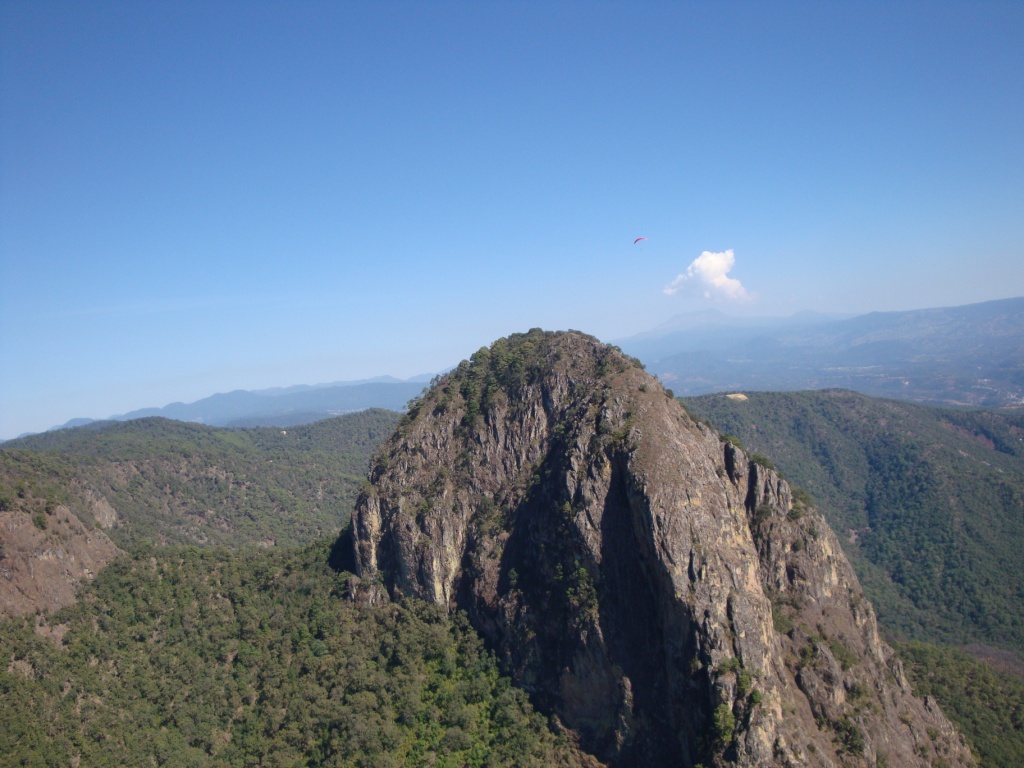 Below, Had Robinson celebrates a great flight. The "Wall" (upper left) and El Peñon are in the background.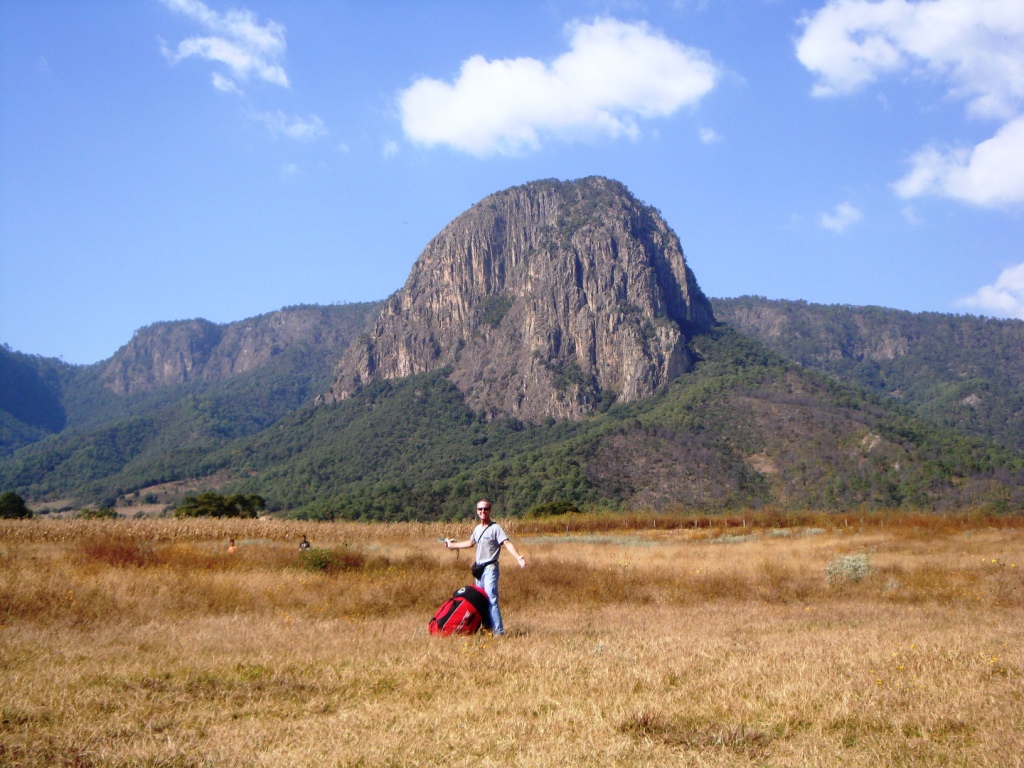 Below: View from the LZ to the soaring ridge east of town. After a day's flight, pilots can relax near the lake.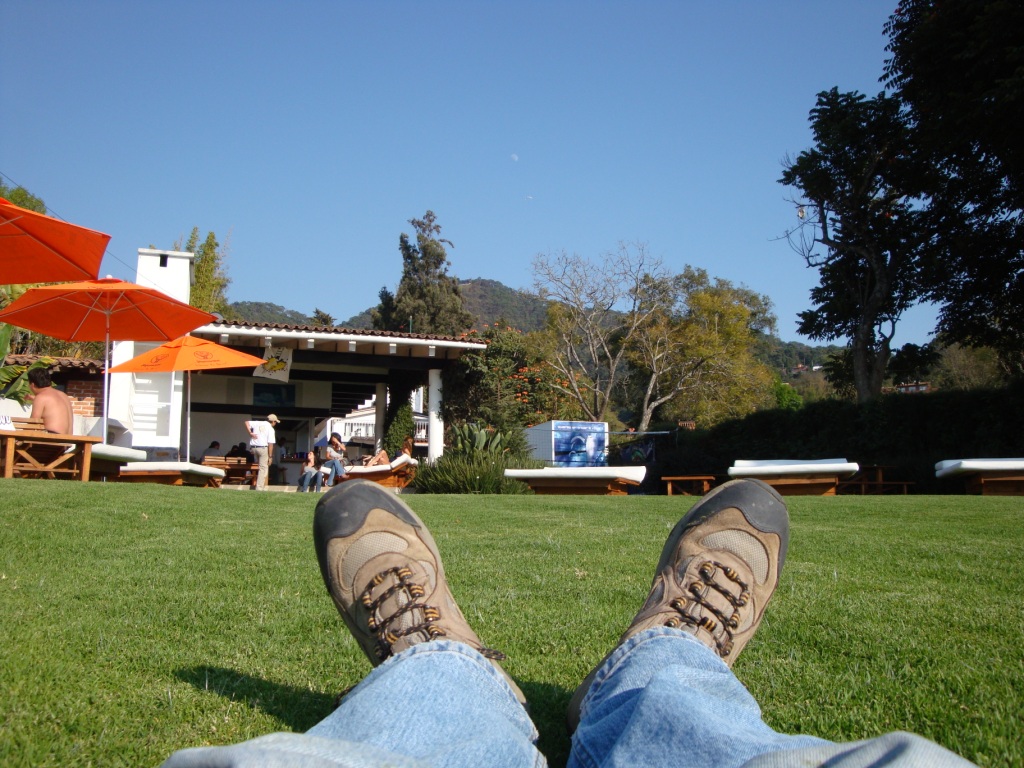 Thermalling above launch. The huge LZ is just to the upper right of the glider.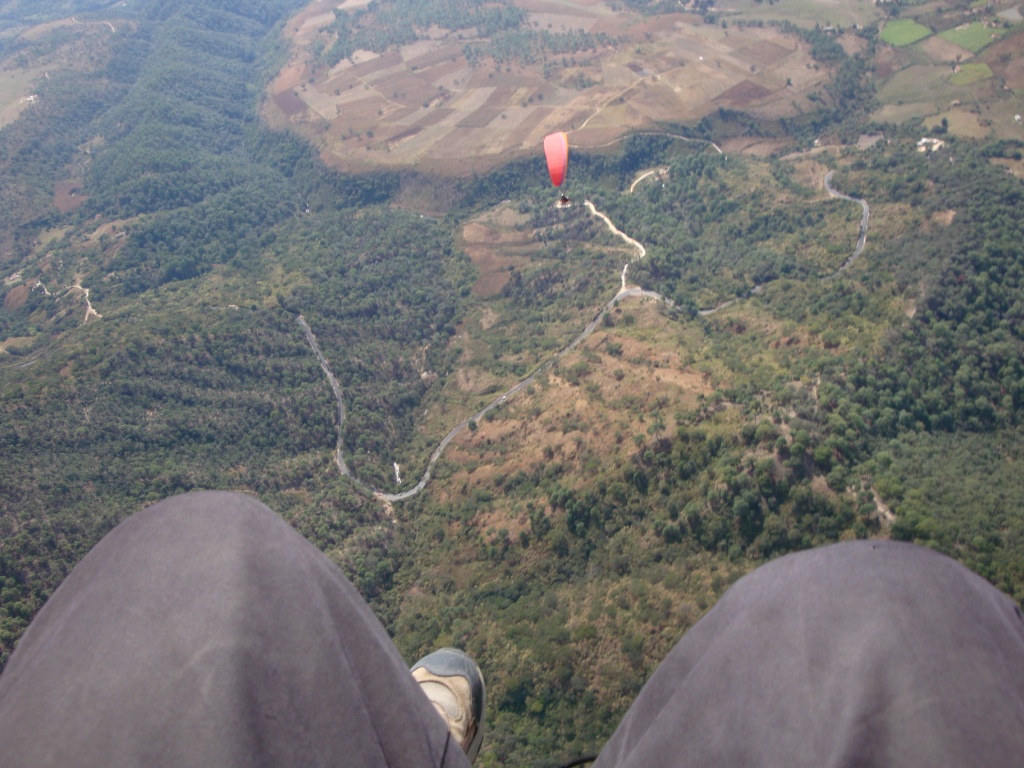 Instead of a "drive in" for lunch, we have a "fly in". Our favorite place is the little house about 1/2 mile in front of the dog leg in the road (not visible). You pretty much can pick your LZ from anywhere. The glider to the center left is going to land near the restaurant.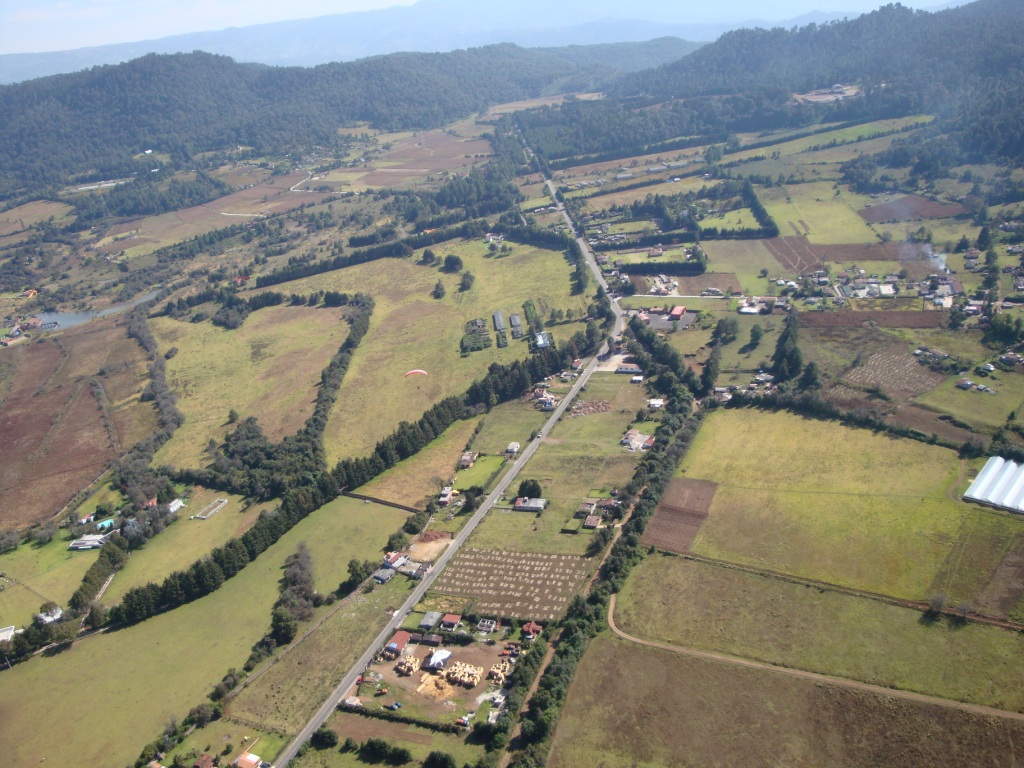 The friendly kitchen staff and the wonderful food they prepare – right in front of your eyes! (And the price is about $4 for lunch.)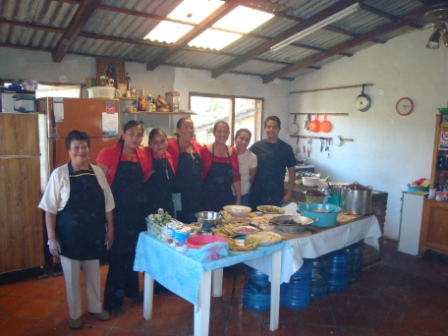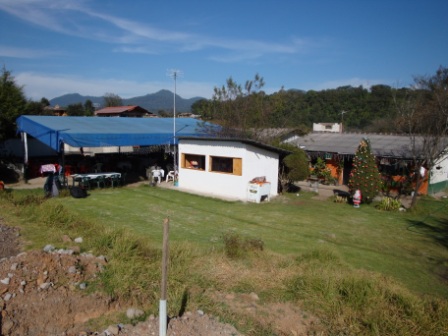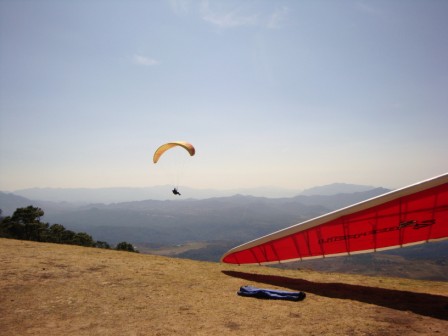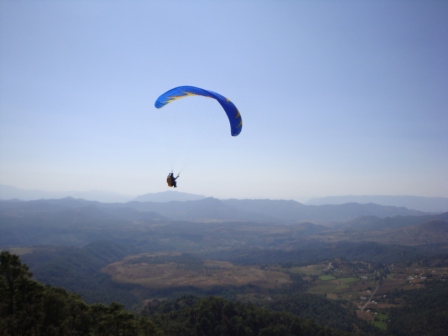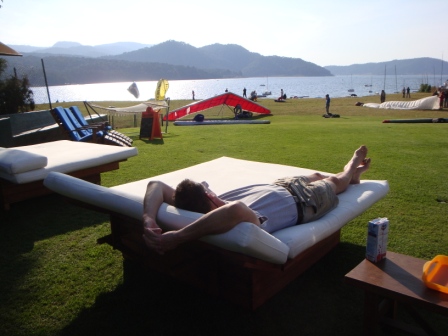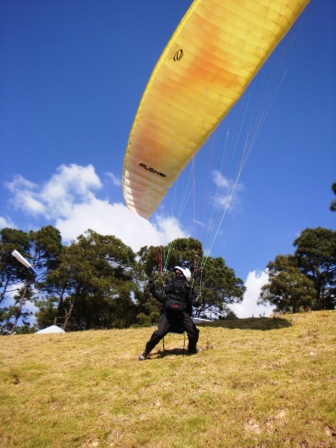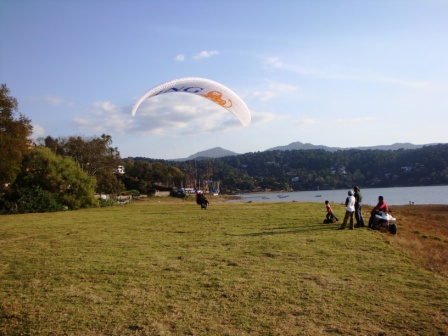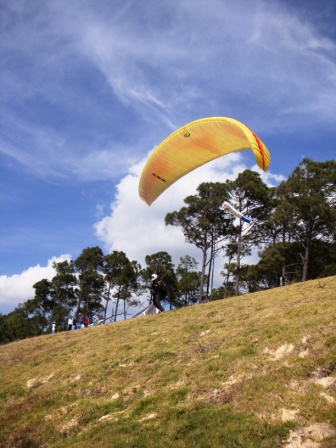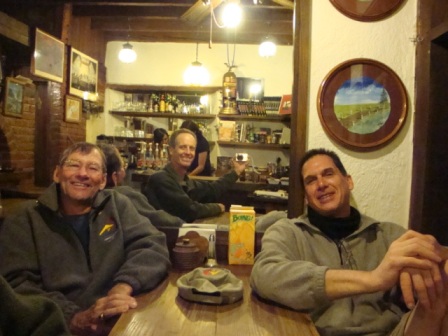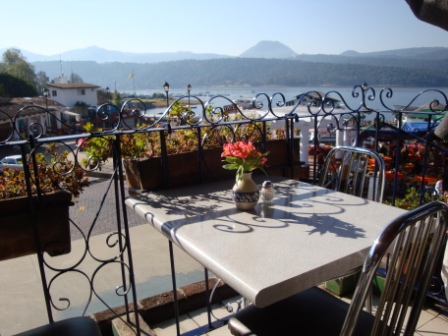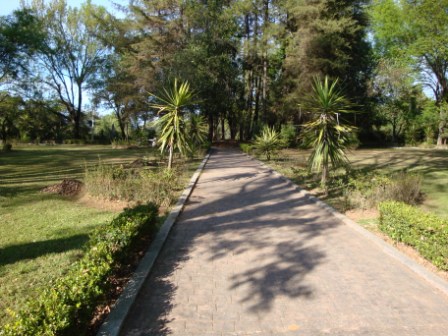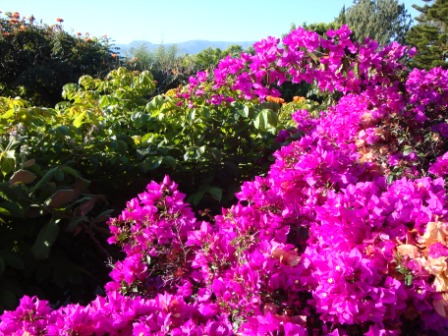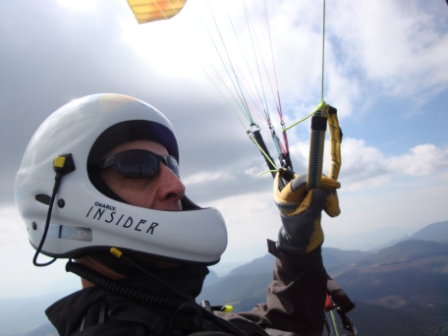 We all have so much fun flying around in the easy air of Valle de Bravo. To book your adventure in Valle, contact Fly Mexico.